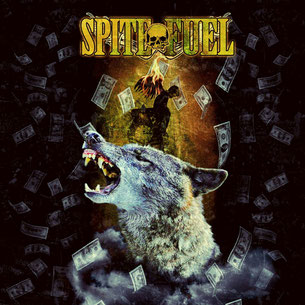 VÖ: 05.12.2016
Label: MDD Records
Format: CD (Single)
Tracklist:
01. Sleeping With Wolves
02. Never Surrender (Re-Recorded)
03. Sleeping With Wolves
Gute und authentische Musik ist auch im Rock und Metal heutzutage schwer zu finden. Vorallem bei Newcomern hört man oft zu stark raus, welche Bands und Künstler die Musik beeinflusst haben.
Natürlich kann das Rad nicht neu erfunden werden, aber ob die Songs noch selbst geschrieben werden, und die Lyrics von Herzen kommen, das merkt man schon.
Im Falle von SPITEFUEL tritt eben genau das ein. Auch wenn Sleeping With Wolves nur eine vorab Singleauskopplung ist, zeigt die Band um Ex-Stranglet-Mitglieder Stefan Zörner, Tobias Eurich und Finn Janetzky was sie auf dem Kasten haben. Timo Pflüger und Björn Hessemüller - beide Ex-Devil Darlings - geben auch noch ihren Senf dazu und runden die Geschichte somit ab. Gerade frisch aus den Troisdorfer Gernhardt-Studios geschlüpft, zeigt sich die Single von ihrer vielfältigen Art. Neben den durchaus erstklassig eingespielten und abgemischten Rocksongs (Never Surrender ist hier "nur" ein Re-Recording) gibt es auch eine orchestrale Version von Sleeping With Wolves, die bei Banddebüts doch eher länger zu suchen ist. Der komplette Silberling in seiner ganzen Kürze lässt die Vorfreude auf das Album "Second To None" ins unermessliche steigen. Die Zeit bis zum Release im Frühjahr 2017 wird wohl sehr lang....
SPITEFUEL konnten in ihrer kurzen Bandgeschichte auch schon einige Liveshows absolvieren und blicken dabei auf eine beträchtliche Anhängerschaft zurück, die, soweit möglich, immer mit dabei ist um den Musikern ihre Treue zu erweisen.
(Sarah Jacob)