"In The Blood" Tour 2016 - kanadische Metal-Legende kehrt zurück
Kanadas legendäre Thrash-Altmeister sind zurück. 2015 veröffentlichten sie ihr neues Album und gingen anschließend auf Tour. Mit "Suicide Society" stürzen sich Annihilator kopfüber in eines der knackig straffsten Riff-Wunder, welches Mastermind Jeff Waters je produziert hat. Obwohl Waters´ Stimme an den Stil von "King Of The Kill" (1994) erinnert, gibt es überraschende Verweise an Legenden wie Layne Stanley, Ozzy Osbourne, James Hetfield und Dave Mustaine zu bestaunen. Hier schließt sich auf eine schlüssige Weise der Kreis zu Waters Herkunft bezüglich Riffing, Drum Grooves und Bass: Alles speist sich aus vielfältigen Quellen und Genres.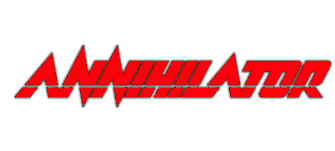 Metalheads auf der ganzen Welt kennen Annihilators herausragende und energetische Live Shows. Nach der erfolgreichen Verwüstung auf einigen europäischen Festivals diesen Sommer (u.a. Wacken), spielen Annihilator eine ausgedehnte Europatournee und machen mittendrin auch im Aschaffenburger Colos-Saal halt.
Zur Besetzung: Drum-Monster Mike Harshaw ist mittlerweile in seinem 4. Band-Jahr, parallel dazu kehrt ein bekannter Name zurück, während ein anderer erstmalig erscheint: Bassist Cam Dixon (aus der "King of the Kill"-Ära) kehrt zu seinen Wurzeln zurück und Gitarrist Aaron Homma bestreitet seinen Einstand bei der Band.
"Metal Fans werden sicher schwer feiern, mit zufriedenem Grinsen auf ihren Gesichtern, wenn sie dieses Album hören", freut sich Waters. Es empfiehlt sich schon mal die Nackenmuskulatur zu lockern, es könnte etwas anstrengend werden.
Termin:
Beginn: 20:00 Uhr
Einlass: 19:00 Uhr
Location: Colos-Saal
Support: Mason