Jetzt kommt die Sensation für alle HELLOWEEN-Fans: Jahrelang habt ihr daran geglaubt und immer wieder danach gefragt – jetzt ist es soweit: Im Herbst 2017 stehen Michael Kiske und Kai Hansen wieder gemeinsam auf einer HELLOWEEN-Bühne und lassen das legendäre Original-Line-up der Band auferstehen. Zum Mitschreiben: Weikath, Kiske, Hansen, Grosskopf spielen HELLOWEEN-Klassiker live und auf einer gemeinsamen Tour. Riesennummer. Wahnsinn. Aber setzt euch lieber nochmal, denn das ist noch nicht alles! Unter der Flagge PUMPKINS UNITED gehen sogar alle Kürbisköpfe an den Start – also Andi & Michi an den Vocals, Kai & Weiki & Sascha an den Gitarren und Markus & Dani in der Rhythmusfraktion.

PUMPKINS UNITED WORLD TOUR 2017/2018: MEHR. GEHT. NICHT.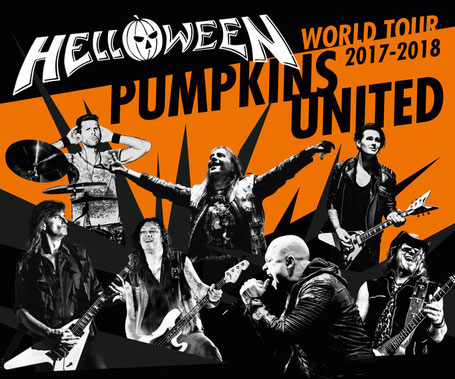 DIE IDEE.
 
HELLOWEEN sind zweifellos einer der respektiertesten Metal-Exporte Deutschlands und werden gemeinhin als die Gründer des Melodic Speed Metal angesehen. Als Urväter des Genres sind sie eine der einflussreichsten Metalbands des Planeten. Im Laufe einer unglaublichen Karriere, die 1984 startete, haben HELLOWEEN weltweit auf unzähligen Festivals gespielt – wie z.B. auf dem Rock in Rio, dem Loudpark in Tokio, Wacken oder auch dem Woodstock in Polen, wo sie als Headliner vor über 500.000 Fans performten. Die Band hat zahllose Headliner-Welttouren und spektakuläre Shows mit Größen wie Iron Maiden, Black Sabbath, Dio, Slayer oder Ozzy Osbourne gespielt und ist in exotischen Locations wie Borneo, Indonesien, Manaus, Brasilien oder auf 3200 m in der höchstgelegenen Hauptstadt der Welt, dem bolivianischen La Paz, aufgetreten. Der aufsehenerregende Gig beim »Monsters Of Rock« 1988 in Castle Donington vor über 100.000 Menschen war genauso unvergesslich wie die MTV »Headbanger's Ball« US-Tour mit Anthrax und Exodus. Inklusive der Meisterwerke »Keeper of the Seven Keys« Part I & II haben sie bis heute15 Studio- und drei Live-Alben veröffentlicht, die mehr als acht Millionen Platten verkauft und der Band 14 Gold- und sechs Platin-Awards gesichert haben. HELLOWEEN begeistern die Fans seit 30 Jahren mit fantastischen Riffs, großartigen Songs und bewegenden Melodien – das macht drei Jahrzehnte Weltkarriere, die sie 2015 mit dem »Hellbook« offiziell feierten. Dabei entstand auch die Idee zu PUMPKINS UNITED: Sowohl die 'Jubiläumsbibel' als auch die Touren mit Kai haben den Jungs vor Augen geführt, dass diese Bandgeschichte nach einem weiteren Kapitel schreit. Michael Kiske beschreibt es so: »Mit Unisonic einen Original-HELLOWEEN-Track zu spielen war schon ein Flashback, aber im Original-Line-up und mit Andi Gas zu geben wird etwas ganz Besonderes. Die Zeit ist reif!« Die Chemie zwischen Kiske, Hansen, Weikath und Grosskopf ist einzigartig – und erlebt nicht zuletzt euretwegen ihr Revival: Ihr habt nie aufgehört es euch zu wünschen – jetzt kommt das Mega-Event live, in voller Besetzung und schwer verkabelt!

IM DETAIL.
 
Das erste bestätigte Date der Super-Tour startet am 28. Oktober 2017 in Sao Paulo und führt die versammelte PUMPKINS-Entourage quer durch ausgewählte Städte und Venues in Latein Amerika, Europa, Asien und den USA. Extrem großes Kino, das, inklusive ein paar noch geheimen Überraschungen, wohl knapp drei Stunden mit den größten Hits aus drei Jahrzehnten HELLOWEEN ergibt, denn die Männer werden es sich natürlich nicht nehmen lassen, eine gepflegte Fullspeed-Zeitreise durch das HELLOWEEN-Repertoire hinzulegen. »Wir hatten ja schon auf der Hellish Rock Part 1 & 2 einen Mordsspaß, aber diesmal werden wir definitiv noch einen drauflegen« grinst Kai Hansen und Markus Grosskopf ergänzt: »Es werden auf jeden Fall Songs dabei sein, die wir sehr lange nicht mehr oder sogar noch nie live gespielt haben.« Wer sich für diese Tour keine Tickets sichert, hat vermutlich echt nicht mehr alle Kürbisse am Zaun: Die Original-Pumpkins wollen mit euch eine globale Party feiern, die auch deswegen so emotional wird, weil diese SPECIAL-WORDLTOUR eben keine Reunion ist und so wohl nie wiederkommen wird. Andi spricht uns aus dem Metal-Herzen, wenn er sagt: »Ich freue mich unglaublich, zusammen mit Michi seine und meine Tunes live zu spielen. Das wird absolut einzigartig.«  

 – Und jetzt: Weiteratmen.

Schaut Euch auch den YouTube Trailer an:
Pumpkins United: https://www.youtube.com/watch?v=Zg9ZOyDfYIA