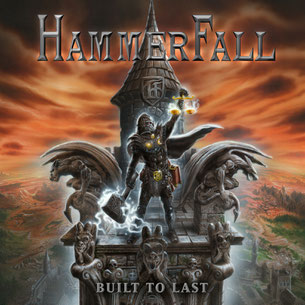 VÖ: 04.11.2016
Label: Napalm Records
Format: CD
Tracklist:
01. Bring It!
02. Hammer High
03. The Sacred Vow
04. Dethrone And Defy
05. Twilight Princess
06. Stormbreaker
07. Built To Last
08. The Star Of Home
09. New Breed
10. Second To None
Seit den Anfängen der Band, mit dem ersten Release ("Glory To The Brave" 1997), über den weiteren Verlauf der Bandgeschichte konnte man bei Hammerfall immer wieder ein auf und ab in der Qualität der Alben feststellen. Zwischenzeitlich fast totgeglaubt konnten sich die Schweden aber mit dem letzten Album "(r)Evolution" (2014) in die Herzen der Power Metal-Fans zurück spielen und diesen Platz mit "Built To Last" festigen.
Eine starke Scheibe, die hier und da die typischen Power Metal-Klischees aufgreift, aber das Release zu einem runden Ganzen werden lassen. Auch Sänger Joacim Cans ist stimmlich noch voll auf der Höhe und zeigt, dass er auch in fortgeschrittenem Alter noch alle seine Töne trifft.
Nach einer erfolgreichen letzten Tour blieb nur zu hoffen, dass es genauso, oder zumindest ähnlich, weitergehen würde. Genau das ist nun auch eingetreten.
Tourdaten für das kommende Jahr gibt es im Übrigen auch schon und ich bin mir sicher, dass die Band mit "Built To Last" an die letzten Erfolge anknüpfen wird!
(Sarah Jacob)