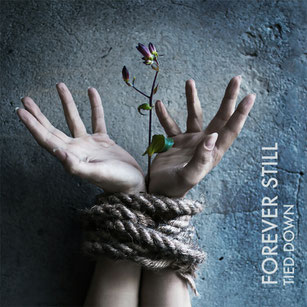 VÖ: 21.10.2016
Label: Nuclear Blast
Format: CD
Tracklist:
01. Scars (2:44)
02. Once Upon A Nightmare (3:57)
03. Miss Madness (3:51)
04. Awake The Fire (3:00)
05. Breathe In (2:46)
06. Save Me (4:25)
07. Your Light (3:52)
08. Alone (3:09)
09. Break The Glass (3:07)
10. Tied Down (3:33)
"Just another female fronted band?" - Meiner Meinung nach nicht ganz! Ja, Forever Still sind eine neue Rockband. Ja, die Stimme ist weiblich. ABER! Hier bekommt man nicht die ewig gleiche Leier der operetten-artigen Klänge, sondern eine solide und kräftige Stimme, der sympatischen Frontfrau Maja Shining.
Ich persönlich stehe nicht wirklich auf Gesänge á la Nightwish & Co und bin daher freudig überrascht ab und an auch mal was anderes hören zu können! Hier und da klingt leider auch Maja mal etwas "heulend" nach Evanescence, aber diese Momente sind erfreulich kurz und selten.
"Man könnte uns wohl als Do-it-yourself-Band bezeichnen, das stimmt. Mikkel und ich schreiben die Songs und er spielt nicht nur die Instrumente alle selbst ein, sondern übernimmt auch die Aufnahmen, das Mixing und das Mastering", erklärt Maja Shining. "Ich mache dafür unsere Musikvideos, Bandfotos und Artworkdesigns. Mikkel hat schon vorher als Tontechniker gearbeitet und mit vielen großen dänischen Acts kollaboriert. Außerdem lernte er von Flemming "Metallica" Rasmussen. Vieles andere brachten wir uns im Laufe der Jahre einfach selbst bei. Es ist oft schwer, Leute zu finden, die die künstlerischen Vorstellungen von einem teilen und gleichzeitig bezahlbar sind. Aber da die visuellen Aspekte ein großer Teil unserer Musik ausmachen und wir uns immer viel damit auseinandersetzten, dachten wir, dass wir es genauso gut selbst übernehmen können."
"All unsere Texte entstanden aus seiner persönlichen Erfahrung heraus oder zumindest durch ein authentisches Gefühl. Wir möchten, dass die Songs direkt und vollkommen ehrlich sind und dabei ist uns bewusst, dass die Wahrheit nicht immer schön ist – das soll sie gar nicht sein. Viel eher sehen wir unsere Musik als Ventil für alles, was sich sonst massiv in uns aufstauen und irgendwann überkochen würde – unsere Fans erzählen oft, dass es ihnen genauso geht. Man darf sich nicht selbst zensieren oder vor etwas zurückschrecken, wenn man Liedtexte schreibt, sondern muss alles offenlegen, wenn man möchte, dass der Hörer die Gefühle ernsthaft nachvollziehen kann – so ist es zumindest bei unserer Musik – und ich komme damit klar", gibt Maja zu. "Jeder Song beginnt mit einem Grundgefühl. Solange das nicht da ist, brauchen wir gar nicht anfangen. Meist schickt Mikkel mir einen Melodieschnipsel und ich erkenne sofort, um was es in dem Lied gehen könnte, da es schließlich die Instrumente sind, die das Hauptgefühl transportieren. Meist setze ich dann einen Gesang mit eher sinnlosen Lyrics darüber und das inspiriert Mikkel wiederum erneut, sodass wir den Song im Ping-Pong-System fertig stellen."
Aktuell sind Forever Still mit Lacuna Coil unterwegs und beweisen, dass diese Mischung einfach perfekt zusammen passt. Alleine eine stimmliche Harmonie mit Cristina Scabbia macht diese Konzerte zu einem runden Erlebnis. Die Einflüsse dieser Band kann man so auch auf dem Album wieder finden.
Insgesamt ein gelungenes "selfmade" Werk, das seinen Platz im CD-Regal verdient!
(Sarah Jacob / Interviews: Nuclear Blast)