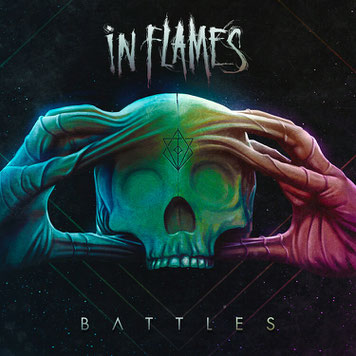 VÖ: 11.11.2016
Label: Nuclear Blast
Format: CD
Tracklist:
01. Drained (4:06)
02. The End (3:58)
03. Like Sand (3:43)
04. The Truth (3:04)
05. In My Room (3:25)
06. Before I Fall (3:27)
07. Through My Eyes (3:50)
08. Battles (2:58)
09. Here Until Forever (4:19)
10. Underneath My Skin (3:30)
11. Wallflower (7:06)
12. Save Me (4:12)
Der neue Langspieler aus Göteborg steht in den Startlöchern. Eine wirklich Weiterentwicklung kann ich auch beim mittlerweile zwölften Studioalbum von In Flames nicht erkennen. Muss nicht schlecht sein, kann aber auch langweilig werden. Entweder sagt man sich hier "Never touch a running system!" oder man hat Angst davor, Fans zu verlieren, wenn man seinen Stil etwas ändert/variiert. So ist eben auch Battles ein typisches Werk der Schweden.
"Dieses Album kam weit schneller zustande, als wir uns das vorgestellt hatten", erklärt Gitarrist Björn Gelotte. "Zu Anfang war ich zögerlich, aber ich hatte schon einige Riffs auf Tasche und setzte mich mit [Sänger] Anders zusammen und plötzlich schrieben sich die Songs wie von selbst!"
Beim ersten Anspielen haut mich "Battles" nicht wirklich vom Hocker. Im weriteren Verlauf des Albums bekommt es aber durchaus seine Momente zur Daseinsberechtigung. (Hardcore-)In Flames-Fans werden das Album natürlich lieben! Für alle anderen wird es ein bischen Dauern, bis es tatsächlich zugänglich wird.
"Wenn Fans dieses Release hören, werden sie sofort wissen, dass es sich dabei um das neue IN FLAMES Album handelt, obwohl wir hier nicht erneut dieselbe Suppe neu aufwärmen, sondern immer wieder neue Elemente in unsere Musik einfließen lassen. Und das ist etwas, worauf ich sehr stolz bin", erklärt Anders Fridén. "Es steckt etwas in den Fingern der Jungs und in meiner Stimme, das sofort erkennen lässt, um welche Band es sich handelt, doch ich hoffe, dass unser Songwriting sich weiterhin stetig weiterentwickelt und wir immer wieder neue Ufer erreichen."
(Sarah Jacob / Interviews: Nuclear Blast)