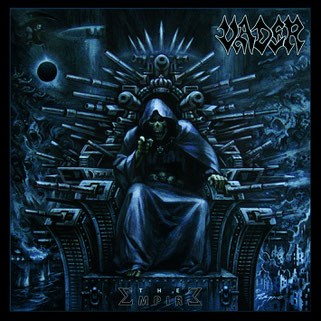 Release: 04.11.2016
Label: Nuclear Blast
Format: CD
Tracklist:
01. Angels of Steel (2:16)
02. Tempest (2:41)
03. Prayer to the God of War (2:47)
04. Iron Reign (4:37)
05. No Gravity (4:08)
06. Genocidius (2:59)
07. The Army-Geddon (4:10)
08. Feel My Pain (3:24)
09. Parabellum (2:28)
10. Send Me Back to Hell (3:32)
"IN YOUR FACE!" - so geht es direkt mit dem ersten Titel des neuen Langspielers von Vader los. Der dienstälteste polnische Death Metal-Export schmettert dem gewillten Hörer direkt mal die volle Breitseite entgegen. Gewohnt nichts für schwache Nerven! Trotzdem zeigt sich die Band wieder gewohnt abwechslungsreich. Neben den sehr thrashigen Einflüssen, gibt es hier auch wieder langsamere Tempi, in denen sich der Gehörgang ein wenig erholen kann - falls nötig. Die eingängigen und mitreissenden Melodien und Rhytmen machen Spaß auf mehr und das auch noch ganz laut! Lasst eure Nachbarn daran teilhaben. Es ist Zeit zum Haare schüttel um ein neues Meisterwerk von Peter & Co. zu feiern!
Mit brachialer Gitarren- und Drum-Gewalt, wird auf The Empire alles niedergewalzt, was sich den Noten in den Weg stellt. Ohne Rücksicht auf Verluste von A bis Z, bzw. von "Angels of Steel" bis "Send Me Back to Hell". Dies können wir nach einer - vermutlich erfolgreichen - Tour auch gerne tun, wenn man dadurch ein weiteres Werk der Polen erwarten kann. "The Empire" lässt jedenfalls keine Langeweile aufkommen und beweist, dass die 1983 gegründete Formation nichts an Kraft verloren hat!
(Sarah Jacob)