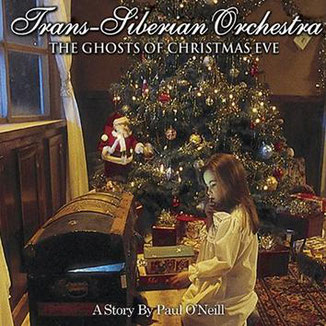 Release: 04.11.2016
Label: Universal
Format: CD
Tracklist:
01. O' Come All Ye Faithful/ O Holy Night (Instrumental)
02. Good King Joy
03. Christmas Dreams
04. Christmas Eve/Sarajevo 12/24 (Instrumental)
05. Christmas Canon
06. What Child Is This?
07. Music Box Blues
08. Promises To Keep
09. This Christmas Day
10. First Snow (Instrumental)
11. Music Box Blues Live (Daryl Pediford Tribute New York 2004) - Bonustrack
Das TSO die perfekte Mischung von Metal und Orchester hinbekommen, ist ja schon längst kein Geheimnis mehr. Auch live hat die Kombo dies schon öfter auf euopäischen Bühnen kund getan. Nicht zuletzt sehr eindrucksvoll auf dem 2015er Wacken Open Air, wo sie zusammen mit Savatage beide Hauptbühnen gleichzeitig bespielten.
2001 veröffentlichte die Band die DVD "The Ghost Of Christmas Eve", deren gleichnamige Audioaufnahme nun ebenfalls veröffentlicht werden soll. Musikalisch muss man hier also nicht mehr viel bewerten oder erzählen. Jedoch wird zusätzlich zu den bereits bekannten Stücken auf der DVD, der Bonustrack "Music Box Blues (Daryl Pediford Tribute New York 2004)" enthalten sein. Ein sehr gefühlvoll dargebotenes Stück, welches mit der kräftigen Stimme eine perfekte Harmonie mit der Musik bildet. Als zusätzliches Goodie sind beiden Tracks "Christmas Dreams" und "What Child Is This" von "The Lost Christmas Eve" vorhanden. Diese runden die Geschichte, die so auf Tour präsentert wird, ab. Die gesamte CD verbreitet schon jetzt eine angenehme Weihnachtsstimmung. Leider wird die Tour bislang nur in den USA statt finden, die hier in den vergangenen Jahren immer ausverkauft war, und bereits zu einer festen, generationsübergreifenden Festtags-Tradition wurde. Verständlich. Es bleibt also nur zu hoffen, dass sich diese Shows auch in Europa weiter etablieren können, denn hier bekommt man tatsächlich etwas für sein Eintrittsgeld geboten. Wir halten euch auf dem Laufenden! Bis dahin bleiben uns zumindest die CDs um die Musik geniessen zu können. In diesem Sinne: Merry Christmas!
(Sarah Jacob)