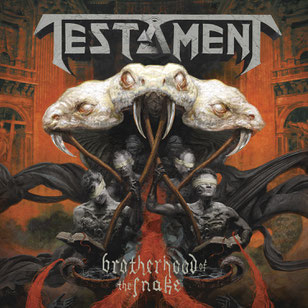 Release: 28.10.2016
Label: Nuclear Blast
Format: CD
Tracklist:
01. Brotherhood Of The Snake (4:14)
02. The Pale King (4:51)
03. Stronghold (4:00)
04. Seven Seals (5:39)
05. Born In A Rut (4:59)
06. Centuries Of Suffering (3:34)
07. Neptune's Spear (5:26)
08. Black Jack (4:22)
09. Canna Business (3:52)
10. The Number Game (4:38)
Seit dem letzten und bisher auch erfolgreichsten Release "Dark Roots Of Earth", der Bay-Area-Thrash-Titanen, sind bereits vier Jahre vergangnen. Nun meldet sich die Bruderschaft mit dem neuen Album "Brotherhood Of The Snake" zurück, und das, wilder als je zuvor. Man könnte fast meinen, als wollten die Mannen um Chuck Billy allen anderen nocheinmal ordentlich die Faust zeigen. Nach über 30 Jahren hat die Band scheinbar mehr Power als je zuvor. "The first record is always classic because you form the band, you're totally into it, you go through the club scene, find yourself, and write your initial album over multiple years," erklärt Eric. "Then, you get signed and end up in a cycle. We took some time to do »Brotherhood of the Snake«, and it shows. Different influences came in. Normally, there are a few straight ahead thrash songs. We haven't had this many thrash tracks since »The Legacy«. It's a new era."
"I view TESTAMENT like I did when we started," fügt Chuck hinzu. "I've been fortunate to be doing this for over 30 years. It means a lot. We're just going to continue doing what we do."
Nach den langen Touren und Promo-Terminen zum Vorgängeralbum, liess sich die Band seit Ende 2013 etwas mehr Zeit um den neuen Langspieler zu erschaffen. "Having separate periods to write set it apart," erklärt Eric weiter. "Everybody played hard. Chuck really surprised me and belted out stuff that's more melodic over the heavy speed metal riffs. It blended really well together."
"It does flow," bestätigt Chuck. "There's a lot of musicianship going on there, and I was finding hooks in the moment. I was able to feel it and just go."
Das meiner Meinung nach mehr als gelungene Konzeptalbum strotzt vor Stärke und Energie. Und eben dieses Konzept, ist auch in den Stories der Songs erkennbar. "There's a connection between the alien world and religion, and the whole storyline came from it," erklärt Chuck. "There's a story of a Sumerian race 6,000 years ago that went on crusades to basically dethrone religions. The earth was basically the place where their leader, the pale king, set people to be imprisoned and mine for gold. It got the ball rolling. If a TESTAMENT fan knows our history or has followed our last couple of records, they'll hear the progression," klärt der Frontman auf. "Everything is right there and in-your-face. That's the way it should be with us."
Fazit: kaufen! Aktuell ist die Band auch mit den Vikingern von Amon Amarth auf Tour. Hier gibt es auch einen Auszug von "Brotherhood Of The Snake" zu sehen und hören. Bereits der ausverkaufte Tourauftakt am 28.10. (Release-Date) war ein voller Erfolg.
(Sarah Jacob / Interviews von Nuclear Blast)