Anfang nächsten Jahres werden VICTORIUS ihr neues Album "Heart Of The Phoenix" bei Massacre Records veröffentlichen!
Nun hat die Band die Tracklist ihres 4. Studioalbums veröffentlicht, welches von Lars Rettkowitz bei KR Music produziert & gemischt, sowie von R.D. Liapakis in den Music Factory/Prophecy Studios gemastert wurde: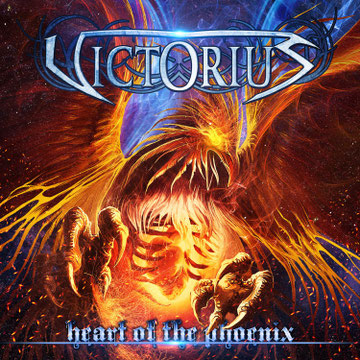 01. Shadow Warriors
02. Hero
03. End Of The Rainbow
04. Die By My Sword
05. Sons Of Orion
06. Heart Of The Phoenix
07. Empire Of The Dragonking
08. Hammer Of Justice
09. Beyond The Iron Sky
10. Virus
11. A Million Lightyears
Das Artwork wurde von Stan W Decker gestaltet, der schon mit Bands wie Masterplan oder Magic Kingdom gearbeitet hat.
Gitarrist und Songwriter Dirk über das Album:
"Wir wollten ein Artwork kreieren, das die Musik auf der Platte perfekt widerspiegelt. Kompromissloser Power Metal - kompromissloses Power Metal Cover!. Wir konnten niemand Geringeres als Stan W Decker für uns gewinnen, welcher unserer Meinung nach aktuell zu den besten Metal-Artworkern gehört. Unsere Vision von einem "Badass Phoenix" mit starken leuchtenden Farben wurde perfekt umgesetzt. Ich persönlich hasse diese ganzen neuartigen, modernen Cover, wo kein Mensch weiß, was uns die Band damit eigentlich sagen will. Umso glücklicher sind wir innerhalb der Band mit dem Ergebnis von Stan. Jeder der das Cover sieht, weiß sofort was ihn beim hören erwartet!"
Das neue VICTORIUS Album "Heart Of The Phoenix" wird am 13. Januar 2017 bei Massacre Records erscheinen!
VICTORIUS Live
German Metal Attack 4 // The Ten Commandments Of Metal Tour 2017 w/ Grave Digger & Mystic Prophecy
13.01.2017 - D - Gadenstedt (Landkreis Peine), Black Hand Inn
14.01.2017 - D - Coesfeld, Fabrik
19.01.2017 - D - Berlin, Columbia Theater
20.01.2017 - D - Geiselwind, MusicHall
21.01.2017 - D - Glauchau, Alte Spinnerei
22.01.2017 - D - Ludwigsburg, Rockfabrik
27.01.2017 - CH - Pratteln, Z7
28.01.2017 - A - Graz, Explosiv
10.02.2017 - D - Hamburg, Markthalle
11.02.2017 - D - Bochum, Zeche
16.02.2017 - D - München, Backstage
17.02.2017 - D - Memmingen, Kaminwerk
18.02.2017 - D - Andernach, JUZ Live-Club
http://www.facebook.com/victoriusmetal