CD und Digital Download werden am 04. November über Universal veröffentlicht
TSOs 2016er Nordamerika Winter Tour startet am 17. November
LOS ANGELES - Trans-Siberian Orchestra kündigt, zur Freude der Fans auf der ganzen Welt, den Release von THE GHOSTS OF CHRISTMAS EVE als Audio-Package an. Zusätzlich zu den Liedern, die TSO-Fans bereits von der gleichnamigen 2001er Multi-Platin-DVD kennen und lieben, wird diese neue Album-Version einen besonderen Bonustrack enthalten, "Music Box Blues (Daryl Pediford Tribute New York 2004)". Außerdem werden die Songs "Christmas Dreams" und "What Child Is This" von The Lost Christmas Eve auf The Ghosts of Christmas Eve vorhanden sein, um die Geschichte, die auf Tour präsentiert wird, besser widerzuspiegeln.
Die hinreißende Rock-Oper behandelt die Reise einer jungen Ausreißerin, die in ein verlassenes Varieté-Theater einbricht, um dort am kalten 24. Dezember Unterschlupf zu suchen. Drinnen wird die Teenagerin von dem Hausmeister des Theaters entdeckt, der die Geister der Vergangenheit einsetzt, um ihr Leben in eine neue Richtung zu lenken.
THE GHOSTS OF CHRISTMAS EVE wird am 4. November als CD und digitales Audio-Album über Universal veröffentlicht, pünktlich zu TSOs 2016er Nordamerika Winter Tour, die ebenfalls auf The Ghosts Of Christmas Eve basiert und durch 61 Städte führen wird. Die Tour startet am 17. November und wird nach 105 Shows mit speziellen Neujahrs-Performances in Cleveland und Seattle beendet. Letztes Jahr gestartet, beinhaltet die Rock-Oper beständige Favoriten wie "Christmas Eve/Sarajevo 12/24," "O' Come All Ye Faithful," "Good King Joy," "Christmas Canon," "Music Box Blues," "Promises To Keep," und "This Christmas Day" und wurde bereits von Fans wie von Kritikern gefeiert. Die 2016er Tour wird ein komplett neues zweites Set, das einige von TSOs größten Hits und beliebteste Stücke beinhaltet.
TSOs rekordbrechende "Rock Theater"-Tourneen sind Jahr für Jahr ausverkauft und haben dafür gesorgt, dass sich ihre Touren zu einer generationenübergreifenden Festtags-Tradition entwickelt haben. Seit 1996 hat TSO sich die Position als einer der größten Rock-Acts der Welt erarbeitet, indem es etwa 2.000 Shows für 13 Millionen Fans spielt und somit Tour-Einnahmen von ca. 580 Millionen USD erzielt und mehr als 10 Millionen Alben und DVDs verkauft hat. 2009 hat das Billboard Magazin TSO auf Nr. 25 der "Top Touring Artists of the Decade" platziert.
2015 war ein weiteres bahnbrechendes Jahr für TSO, durch ihre Hit-Tour und dem Release ihres chartstürmenden Albums Letters From The Labyrinth (TSOs dritter Top 10-Einstieg in Folge in den USA, es war sechs Wochen lang auf Platz 1 der Billboard Rock Charts). Die 2015er Tour ging durch 60 Städte in Nordamerika und verzeichnete mehr als 850.000 Besucher, während über 41 Millionen USD in nur 45 Tagen eingenommen wurden.
Wie in den vorherigen Jahren werden 1 bis 2 USD pro verkauftem Ticket an lokale Wohltätigkeitsorganisationen gespendet. Bis heute konnten dadurch über 13 Millionen USD an Spendengeldern in Stiftungen in ganz Nordamerika einfließen.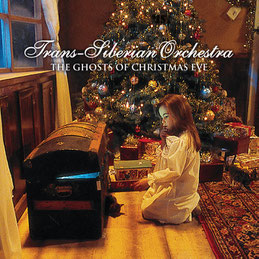 The Ghosts Of Christmas Eve Tracklist:
01. O' Come All Ye Faithful/ O Holy Night (Instrumental)
02. Good King Joy
03. Christmas Dreams
04. Christmas Eve/Sarajevo 12/24 (Instrumental)
05. Christmas Canon
06. What Child Is This?
07. Music Box Blues
08. Promises To Keep
09. This Christmas Day
10. First Snow (Instrumental)
11. Music Box Blues Live (Daryl Pediford Tribute New York 2004) - Bonustrack