Das aktuelle Studioalbum von Luca Turilli's RHAPSODY, »Prometheus, Symphonia Ignis Divinus«, wurde dafür ausgewählt, um das neue Klangformat Dolby Atmos erstmalig an einer Studioproduktion anzuwenden. Der renommierte Produzent Chris Heil (DAVID BOWIE, BRYAN ADAMS, SCORPIONS u.v.m.) mischte das gesamte Werk in Dolby Atmos, welches zudem für eine Grammy-Nominierung 2017 eingereicht wird.
»Prometheus, The Dolby Atmos Experience + Cinematic And Live« wird am 9. Dezember über Nuclear Blast erscheinen.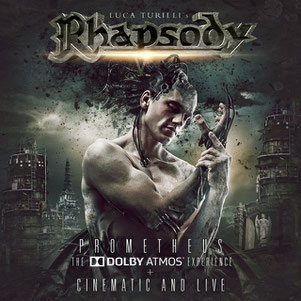 Luca Turilli, verantwortlich für die Komposition, die Orchester- und Chorarrangements, kommentiert: "Der neue Dolby Atmos-Sound passt perfekt zur Musik von Luca Turilli's RHAPSODY. Diese - von emotionaler, visionärer und cinematischer Natur - eignet sich hervorragend dazu, das Potenzial einer klasse Technologie zu zeigen, die dazu bestimmt ist, das Gebiet des umfassenden Audio-Erlebnises zu revolutionieren. Aus Komponistensicht stattet mich Dolby Atmos mit einer Palette dreidimensionaler Farben aus. Es ermöglicht es mir, Band, Orchester und Chor wie in einer realen Situation um mich herum zu positionieren und dem Hörer eine emotionale und atemberaubende Reise in ein Parallel-Universum zu garantieren. Im dreidimensionalen Raum kann endlich jedes Instrument atmen, die Dolby Atmos-Version macht RHAPSODYs Musik zu einer göttlichen, musikalischen Erfahrung voller Erhabenheit. Der Kreativität sind keine Grenzen mehr gesetzt. Die neue Dolby-Technologie erlaubt es meinem Herzen und meiner Seele, sich endlich völlig befreit mit aller Kraft auszudrücken!"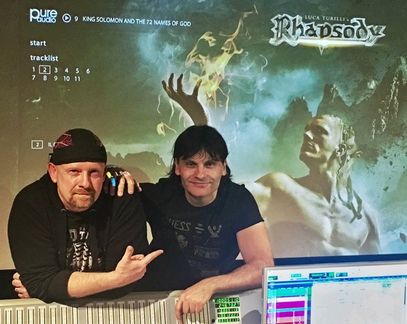 Dolby Atmos - was ist das eigentlich? Viele Kinos rüsten derzeit um, bauen Lautsprecher in ihre Decken ein und nutzen Dolby Atmos als neues Tonformat, das diese Deckenkanäle explizit einsetzt, um den Zuhörer in einen akustischen Ball einzuhüllen und Klang in eine dritte Dimension zu bringen. "Dieses Tonformat ist jetzt zu Hause angekommen und wir von Yamaha-Seite haben dieses Projekt Luca Turilli's RHAPSODY mit der Pure Audio-Blu-ray-Disc mit Dolby Atmos betreut und begleitet", erklärt Michael Geise von der Firma Yamaha. "Das ist eine sehr spannende Geschichte und ich glaube für den Zuhörer extrem aufregend und lebendig. Wir als Hersteller sind natürlich auch immer auf der Suche nach Inhalten für unsere Anwender. Das Thema Dolby Atmos ist in den Receivern vorhanden, der Kunde kann es sofort verwenden und seit gut zweieinhalb bis drei Jahren findet dieses Thema Dolby Atmos in den Fachmedien sehr viel Anklang und Zuspruch. Was der Kunde aber zu Hause noch nicht wirklich hat, ist realer Inhalt. Filme ja, davon gibt es jetzt eine ganze Menge, die mit diesem tollen Tonformat ausgestattet sind, aber Musik ist noch relativ rar. Und Musik ist für uns als Hersteller immer ein Medium, um Klang und Klänge im Allgemeinen von echten Instrumenten wiederzugeben und somit solche Tonformate mit richtigem Leben zu füllen. Keine künstlichen Effekte, sondern hier haben wir wirklich die Möglichkeit, die Größe und auch den Inhalt von Musik auf einer ganz anderen Art und Weise zu präsentieren. Wir haben das Know-How, dieses Tonformat mit unseren Verstärken, Receivern und Soundbars auch im Wohnzimmer für den Zuhörer erlebbar zu machen."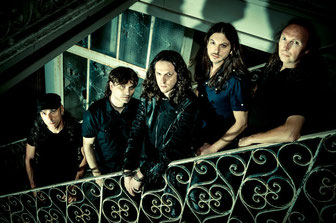 Produzent und Mischer Chris Heil stieß durch Zufall auf Luca Turilli's RHAPSODY: "Ich habe Ausschnitte des »Prometheus, Symphonia Ignis Divinus«-Albums im Nachbarstudio gehört und mir war sofort klar, dass dies das Material ist, das ich benutzen wollte, um Dolby Atmos der Welt zu präsentieren. Diese Art von Musik ist durch seine Orchestralität, seine Größe und seine Energie absolut prädestiniert dafür, dieses Format zu unterstützen und das Format unterstützt auch diese Art von Musik ganz wunderbar. Ich hatte Luca Turilli angerufen und ihn um Erlaubnis gebeten, das Material des »Prometheus, Symphonia Ignis Divinus«-Albums in Dolby Atmos mischen zu dürfen. Er musste sich nicht wirklich bitten lassen, er war sehr erfreut. Denn die Art der Komposition und die aufwendigen Arrangements bieten sich natürlich exzellent an, dies in einem dreidimensionalen Raum darzustellen: Auf der einen Seite die Band, auf der anderen Seite Orchester und Chöre. Daher war dies für uns beide eine Win-Win-Situation."

Das Ergebnis der zweimonatigen Arbeit ist eine unglaublich lebendige Kombination aus Metal, Filmmusik und aus ethnischen Einflüssen jedwelcher internationalen Prägungen. "Es ist wirklich, wirklich unterhaltsam und es ist sehr an- und aufregend zu hören. Es ist das erste Album in meiner 36-jährigen Laufbahn, bei dem ich wirklich lange Pausen zwischen den Stücken gelassen habe. Denn der Eindruck ist so intensiv, dass man diesen Moment des Verdauens der Informationen tatsächlich braucht. Das ist wirklich umwerfend", konstatiert Chris Heil.
Für Luca Turilli steht jetzt schon fest: "Dolby Atmos wird dieses Gebiet revolutionieren und ist mit Sicherheit der nächste Schritt für echten und tiefen Genuss eines Films, einer CD oder eines Livekonzerts."
»Prometheus - The Dolby Atmos Experience« (Audio-Blu-ray!) - Tracklist:
01. Nova Genesis (Ad Splendorem Angeli Triumphantis)
02. Il Cigno Nero
03. Rosenkreuz (The Rose And The Cross)
04. Anahata
05. Il Tempo Degli Dei
06. One Ring To Rule Them All
07. Notturno
08. Prometheus
09. King Solomon And The 72 Names Of God
10. Yggdrasil
11. Of Michael The Archangel And Lucifer's Fall Part II: Codex Nemesis

Das Paket wird durch zwei brandneue Live-CDs abgerundet, die von Luca Turilli und Alex Landenburg produziert, von Christian "Moschus" Moos im Spacelab Studio (Grefrath) gemixt und von Simone Mularoni im Domination Studio (San Marino) gemastert wurden.
 
"»Cinematic And Live« ist das erste Live-Produkt, das von Luca Turilli's RHAPSODY veröffentlicht wird; es spiegelt das Livealbum wider, von dem ich immer geträumt habe. Es wurde 2012 und 2016 in Italien, Frankreich, Deutschland und Spanien mitgeschnitten und beinhaltet fast alle Songs von Luca Turilli's RHAPSODY, die es bis dato gibt. Vor Kurzem haben wir unsere 100. Show gespielt und dieser wichtige Release zelebriert unsere weltweiten Live-Aktivitäten während der letzten Jahre perfekt. »Cinematic And Live« umfasst Songs von der »Ascending To Infinity«- und von der »Prometheus« Cinematic Tour und wartet mit 120 Minuten RHAPSODY-Musik auf: die neuesten Songs, die alten Klassiker und auch einige Stücke aus meiner Solo-Diskografie. Der Mix von Christian "Moschus" Moos und das Mastering von Simone Mularoni bilden die Sahnehaube auf diesem Livealbum und lassen es wirklich kraftvoll, gefühlvoll und emotional wie kein anderes klingen. Es enthält die wichtige Live-Atmosphäre und verleiht der cinematischen Musik von Luca Turilli's RHAPSODY eine neue und spannende Dimension!"
»Cinematic And Live« -Tracklist:
CD1
01. Nova Genesis
02. Il Cigno Nero [Reloaded]
03. Rosenkreuz (The Rose And The Cross)
04. Land Of Immortals
05. Aenigma
06. War Of The Universe
07. Of Michael The Archangel And Lucifer's Fall [Auszug]
08. Excalibur
09. The Ancient Forest Of Elves
10. Son Of Pain
11. Prometheus
12. Drum Solo
13. Knightrider Of Doom
14. Warrior's Pride
CD2
01. The Astral Convergence
02. The Pride Of The Tyrant
03. Tormento E Passione
04. Demonheart
05. Bass Solo
06. Warrior Of Ice
07. Of Michael The Archangel And Lucifer's Fall Part II - Of Psyche And Archetypes
08. Dark Fate Of Atlantis
09. Dawn Of Victory
10. Quantum X
11. Ascending To Infinity
12. Emerald Sword
13. Finale