CRADLE OF FILTH, Englands visionärste und höllischste Band, geben mit Freude bekannt, derzeit an neuer Musik zu schreiben. Die Band befindet sich seit einer Woche im Studio im tschechischen Brno, wo sie am Nachfolger ihres 2015er Albums »Hammer Of The Witches« arbeiten.

Am Abend bevor der Kreativprozess startete, gab Frontmann Dani Filth folgendes zu Protokoll: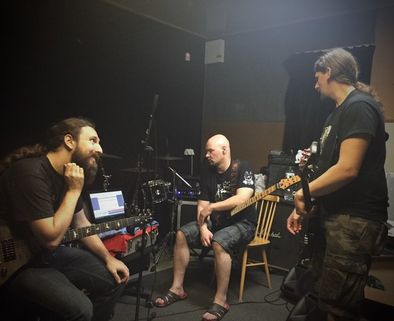 "As a band we are very much looking forward to our writing session in Brno. It's going to be very inspirational to just bury ourselves away in a rehearsal room in the Czech Republic and knead our ammunition of razor sharp flesh-ripping sonic torments into sinister form. Hopefully when we emerge from our musical chrysalis one week later, something beautiful will be born. The new CRADLE OF FILTH album will be mostly written. Then will come the long Autumnal evenings bringing the monster further to life by dressing it in lyricism. I can hardly wait!

As a band, CRADLE OF FILTH have already written about fifty percent of the material towards the new album, which now requires collating and readdressing. We started writing shortly after returning from our highly successful tour of the U.S. and Canada back in March. We were adrenalised by the whole reaction we received out there, having not been back to that part of the world for a fair few years. The camaraderie of playing to that many people across seven weeks really inspired us to start writing material again so soon after the release of our previous endeavour, »Hammer Of The Witches«.

There are certainly a few songs completed already, though these will undoubtedly be scrutinised thoroughly when we hit the rehearsal studio. It'll just be awesome to play through it all creatively in the rehearsal room.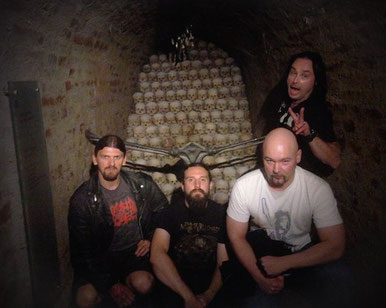 We can reveal that there is one song carried over from the previous album, a veritable lament entitled 'Achingly Beautiful'. We've worked some more on it, fleshing it out considerably. It is very old school CRADLE OF FILTH, featuring a haunting middle section full of soaring female vocals and choir very akin to 'A Gothic Romance' from the album »Dusk... and Her Embrace«. It may not even make this album's grade in the end, as we're being extremely thorough with quality control, but it's definitely something that is being delivered to the proverbial butcher's block from the off."
CRADLE OF FILTH wählten Brno aus einer Vielzahl von Gründen. Unter anderem wegen der Anziehungskraft seiner Eleganz und reichen Architektur, andererseits auch, weil Drummer Marthus und Gitarrist Ashok dort leben, jedoch auch, weil Brno das Europaweit zweitgrößte Ossuarium beheimatet - ein mittelalterliches Gebeinhaus, gefüllt mit 50.000 Skeletten und ist nur wenig kleiner als die Pariser Katakomben.

Mehr zu »Hammer Of The Witches«:
'Blackest Magick In Practice' Official Video: https://youtu.be/_hIsAEH6f5c
'Right Wing Of The Garden Triptych' Official Video Censored: https://youtu.be/t2Y4uZ0rnRk
'Right Wing Of The Garden Triptych' Official Video Uncensored: https://vimeo.com/127013325
'Deflowering The Maidenhead, Displeasuring The Goddess' Lyric Video: https://youtu.be/5Zj5g3bTWQ0
'Enshrined In Crematoria' Official Track: https://youtu.be/BSMWrqZmZK8