Die Kult-Band aus Hollywood zurück in Deutschland
Sechs Shows im September/Oktober 2016 bestätigt
Neues Album "Live From Lexxis' Mom's Garage" ab 26.2.2016 im Handel
Tickets ab Mittwoch, 24. Februar 2016 im Presale erhältlich
Nach ihrer bisher größten und ausverkauften Deutschland-Tournee im März 2015 kündigen die Könige des Hollywood-Glam Metals für Herbst 2016 ihre nächste große Tournee hierzulande an. Michael Starr, Satchel, Lexxi Foxx und Stix Zadinia alias Steel Panther bestätigen sechs Hallenkonzerte und spielen am 30. September 2016 in München im Zenith, am 01. Oktober 2016 in Berlin im Huxleys Neue Welt, am 02. Oktober 2016 in Hamburg in der Großen Freiheit, am 04. Oktober 2016 in Köln im Palladium, am 05. Oktober 2016 in Offenbach in der Stadthalle und am 07. Oktober 2016 in Stuttgart in der Porsche Arena.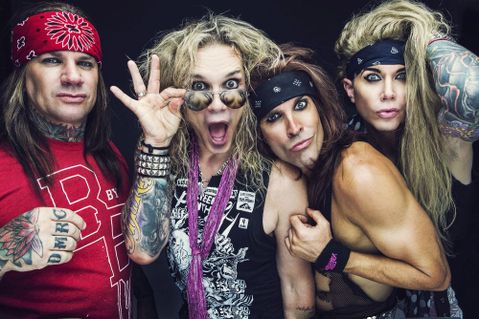 Steel Panther waren lange Zeit das bestgehütete Geheimnis der Rockszene, mit Kultstatus in LA. Aber mit den Erfolgen ihrer Alben (die alle direkt auf Platz 1 der Billboard Comedy Album-Charts landeten) und ihren unglaublichen Liveshows hat sich die Band mittlerweile mehr als etabliert. Mit Steel Panther gemeinsam auf einer Bühne zu stehen, kommt einem Ritterschlag gleich und viele Rock-Ikonen haben die Gelegenheit schon genutzt: Steven Tyler von Aerosmith, Paul Stanley von KISS, Corey Taylor von Slipknot/Stone Sour, Tom Morello von Rage Against The Machine/Audioslave, Chester Bennington von Linkin Park/Stone Temple Pilots, Green Day, Kelly Clarkson, Pink, Avril Lavigne, Chad Kroeger (Nickelback), Billy Ray Cyrus und sogar Walt Jr (bekannt aus der US-Serie Breaking Bad). Steel Panther sind auch im US-TV sehr präsent, traten bei Dancing With The Stars und Bad Girl's Club auf und beteiligten sich an der Online-Kampagne für den Kult-Film Rock Of Ages. Sie sind die Band mit dem längsten Fest-Engagement in der LA-Clubszene, ihre Songs und Videos wurden von über 35 Millionen Fans angeklickt, auf Facebook folgen ihnen über 700.000 Anhänger.
Mit "All You Can Eat", ihrem letzten Album, erreichten Steel Panther übrigens überall ihre höchsten Chartpositionen bisher: In Deutschland landete die Platte im April 2014 auf Platz 15, in Österreich auf Platz 13, in der Schweiz auf Platz 22, in Großbritannien auf Platz 12 und in den USA auf Platz 24 der jeweiligen Landes-Charts. Im Herbst 2014 supporteten sie die Heavy Metal-Legende Judas Priest auf deren US-Tour. Ihre Deutschland-Tournee im März 2015 war überall ausverkauft, auch für ihre Londoner Konzerte in den legendären Venues Wembley Arena, Brixton Academy und Hammersmith Apollo gab es keine Tickets mehr. Auf dem letztjährigen Download-Festival in Castle Donington traten sie auf der Hauptbühne vor mehr als 80.000 Zuschauern auf.
Am 26. Februar 2016 erscheint mit "Live From Lexxi's Mom's Garage" (Open E/Rough Trade) das erste Live-Akustik-Album, das Michael Starr (Gesang), Satchel (Gitarre), Lexxi Foxx (Bass) und Stix Zadinia (Schlagzeug) im Oktober 2015 in Los Angeles vor einem erlesenen Publikum aufnahmen. Auf der kommenden Tour allerdings wird es das volle elektrische Programm der Hollywood-Kings zu erleben geben.
Der allgemeine Vorverkauf beginnt am Freitag, dem 26. Februar 2016. Tickets sind unter www.myticket.de, www.ticketmaster.de und www.eventim.de sowie telefonisch unter 01806 – 777 111* oder 01806 - 999 000 555* (*20 Ct./Anruf – Mobilfunkpreise max. 60 Ct./Anruf) und bei den bekannten Vorverkaufsstellen erhältlich. Bereits ab Mittwoch, dem 24. Februar 2016 – 10:00 Uhr bieten die Ticketanbieter Myticket, Eventim und Ticketmaster Presales an.
Weitere Informationen unter:
STEEL PANTHER - Tour 2016
30.09.2016 - München, Zenith
01.10.2016 - Berlin, Huxleys Neue Welt
02.10.2016 - Hamburg, Große Freiheit
04.10.2016 - Köln, Palladium
05.10.2016 - Offenbach, Stadthalle
07.10.2016 - Stuttgart, Porsche Arena