Vor 35 Jahren, am 18.Juli 1981, wurden die New Yorker Thrash Metal Meilensteine ANTHRAX gegründet und was sie in all den Jahren gemeinsam erreichten, kann heute nur noch als legendär bezeichnet werden.
"35 Jahre sind vergangen und mein Leben hat sich von Grund auf verändert", erinnert sich Bandmitbegründer Scott Ian. "Ich bin nun ein Ehemann und Vater und weit entfernt von dem 17-jährigen High School-Abbrecher, der eine Metalband gründen wollte. Doch eine Sache ist in all den Jahren konstant geblieben: Ich bin immer noch der Rhythmusgitarrist von ANTHRAX. Das DARF ich sein. Denn ich sehe dieses Privileg niemals als selbstverständlich an."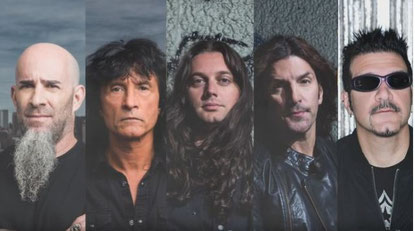 In diesen 35 Jahren ihrer Karriere (lest die Bandgeschichte im Überblick hier!) haben ANTHRAX über 10 Millionen Platten verkauft, mehrfache Gold und Platinauszeichnungen erhalten, sechs Grammynominierungen eingeheimst und viele weitere namhafte Auszeichnungen von den Medien und ihren Fans erhalten. Im Jahr 1991 zerschmetterten sie die Genre- und Rassengrenzen mit ihrer Kollaboration mit PUBLIC ENEMY zu 'Bring The Noise'. Und natürlich stehen sie zusammen mit METALLICA, SLAYER und MEGADETH auf dem Thrash-Olymp der Big Four.

Doch nach all diesen Jahren, Erfahrungen und Erinnerungen, was ist es da, was die Jungs ganz besonders prägte und berührte? Der Moment, in dem der legendäre Autor Stephen King sie in seiner "Dark Tower"-Serie erwähnte? Oder der im Jahr 2012, wo ANTHRAX zur ersten Metalband wurde, deren Musik man im Weltall erklingen ließ, als die NASA "Got The Time" abspielte, um den Mars Rover Curiosity aufzuwecken? Vielleicht war es aber auch der Moment im Jahr 2001, wo die Band von den Medien dazu gedrängt wurde ihren Namen zu ändern auf Grund der Anthraxanschläge in den USA? Oder der, in dem die Band einen Gastauftritt in der populären Fernsehserie "Eine schrecklich nette Familie" hatte?

Charlie Benante, der Banddrummer seit 1983, erinnert sich jedenfalls mit Begeisterung an letzteres: "Wir hatten so einen Spaß bei diesen Aufnahmen! Die Folge wurde zwei Mal aufgezeichnet, einmal mittags und dann noch einmal abends, mit leicht veränderten Textzeilen. Aber dabei bekamen wir noch lautere Lacher, also war es das wert. Nach der Show aßen wir mit der ganzen Truppe zu Abend, direkt in einem Hollywood Restaurant. Da saß ich also neben Al Bundy [gespielt von Ed O'Neill] und am Nachbartisch hocken Clint Eastwood und Morgan Freeman. Al meinte 'Lass uns Clint und Morgan mal hallo sagen' und ich dachte nur 'Waaaas?!'. Es war einfach nur grandios und surreal und wird für immer eins meiner Highlights bleiben. Es war ja nicht einmal eine Musiksache... aber die Musik hat uns dort hingebracht. Ich war doch nur ein kleiner Typ aus einer Band und plötzlich aß ich mit diesen Hollywoodstars zu Abend."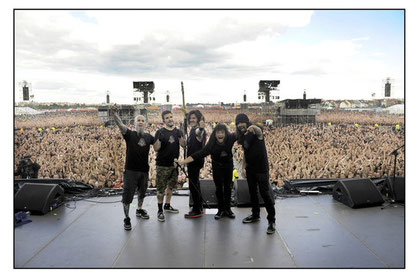 Das neueste Mitglied, Leadgitarrist Jonathan Donais, hat noch einmal einen komplett anderen Lieblingsmoment in der ANTHRAX-Geschichte: "Um 1989 oder 1990, als 'Antisocial' veröffentlicht wurde, war das erste Mal, dass ich ANTHRAX hörte. Ich war sofort süchtig. Ich kaufte mir eine Kassette der MTV Performance, brachte sie meinem Gitarrenlehrer und sagte ihm, dass ich das lernen muss! Und heute spiele ich diesen Song jeden Abend mit der Band!" 

Ein weiterer legendärer Moment für die Band war der 14. September 2011, als in der Bronx ein "ANTHRAX Tag" stattfand. Oder am 22. Juni 2010, als die komplette Besetzung der Big Four das erste Mal eine gemeinsame Show in Bulgarien spielte.

Für ANTHRAXs Scott Ian ist aber noch eine andere Erinnerung wundervoll: "Mein EINER Moment, den ich niemals vergessen werden, ist der Tag, an dem wir im Yankee Stadium spielten. Das ist mein Mekka gewesen. Das New Yorkigste, was eine New Yorker Band nur machen kann. Ich stand auf dieser Bühne, auf diesem Feld, wo bereits so viele meiner Helden gestanden hatten.  Es war unglaublich und surreal. Den kompletten ersten Song hatte ich Tränen in den Augen und wie die Textzeile in dem Song hieß, war ich hier tatsächlich 'King of the hill, top of the heap.' Oder um den schottischen Dichter Robbie Burns zu zitieren: 'Here's to us; who is as good as us? Damn few, and they're all dead.'  Danke Freude! 35 Jahre sind erst der Anfang!"

ANTHRAX - Ian, Benante, Frank Bello, Joey Belladonna und Jon Donais - werden ihr 35-jähriges Bestehen feiern mit großen Festivalshows, Headlinekonzerten und Special Guest Performances zusammen mit SLAYER. Die Daten findet ihr im Anhang.

Außerdem hat David Taylor, ein großer ANTHRAX Fan, eine Auswahl an Konzertclips zusammengeschnitten, um den Klassiker "Antisocial" von 1988 mit Live-Bildern aus den letzten drei Dekaden zu unterlegen. Das Tributevideo und die Hommage an die Band findet Ihr hier:
https://www.youtube.com/watch?v=AIUaqBHWxj8&feature=youtu.be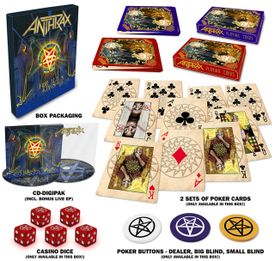 ANTHRAX live:
22.07.2016 - I - Majano, Area Concerti Festival Majano
23.07.2016 - I - Bagnatica, Fosch Fest
24.07.2016 - I - Rom, Rock in Rome
11.08.2016 - E - Villena, Leyendas del Rock Festival
14.08.2016 - UK - Walton-On-Trent, Bloodstock

* Anthrax & Death Angel

Weitere Infos:
www.anthrax.com
www.facebook.de/anthrax
www.nuclearblast.de/anthrax