Unter den vielen Bands des Genres sticht der differenzierte Sound der Aschaffenburger DEATH METAL-Spitzenkönner BETRAYAL erfreulich markant hervor.
Dass BETRAYAL ein ausgeprägtes Faible für das übermächtige Vermächtnis der USA-Originatoren Death haben, hört man schnell in den oftmals ähnlich flüssigen Songs des fitten Quartetts heraus. Die stilistisch interessante Schnittmenge der hörbar begeisterten Formation um Brüllbox Alex zitiert auf originelle Weise etablierte Acts wie At The Gates, Hypocrisy und Edge Of Sanity. Frühe Arch Enemy können ebenfalls als Querverweis herangezogen werden.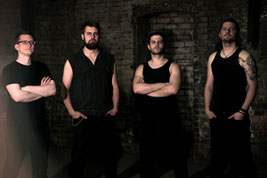 Der enorm bissige Extrem-Faktor in den Liedern wird von eigenständigen Anklängen an Behemoth und Belphegor noch dick und lang unterstrichen. Diverse Gigs, primär in Unterfranken, brachten den Beteiligten daher bislang verdammt viel Zuspruch.
2005 gegründet, brachte die nun wieder immens ambitionierte Band zwei Jahre später die EP "Of Lust And Loss" an den Start. Einem längeren Selbstfindungsprozess, der 2015 in einer neuen Formierung der Gruppe erfolgreich gipfelte, ließen die Jungs im selben Jahr gleich auch noch ein frisches Demo folgen.
Der Juni 2016 wird mit dem beeindruckend spielstarken und ungewöhnlich gehaltvollen BETRAYAL-Debütalbum "Infinite Circles" roh, brutal und vor allem qualitativ aufgewertet. Allerlei technische Raffinessen und eine weit reichende, rhythmische Urgewalt zeichnen das neue Material aus.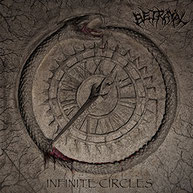 Auf "Infinite Circles" präsentieren sich die Aschaffenburger Todesdiener den Hörern als rundum ausgereifte und überraschend ideenreiche Gesandtschaft. Dauerhaft griffige Melodien dienen in den ohnehin vielfach packenden, enorm Riff-starken Songs neben unbändig bebendem Blast Beat-Gedonner als zusätzlicher Würgegriff.
https://www.facebook.com/BetrayalGER/