Sie brechen die Regeln, erfinden sich immer wieder neu und sind Göteborgs glänzendste Metalperle – seit Anfang der Neunziger flechten IN FLAMES ihre spektakuläre Bandgeschichte, die sie von klassischem Melodic Death bis hin zu ihrem aktuellen, ganz eigenen Stil brachte, mit dem die Schweden sich immer wieder selbst herausfordern.
Und um den Klang von IN FLAMES anno 2016 ein spektakuläres Monument für die Ewigkeit zu setzen, veröffentlicht die Band am 23. September ihre DVD mit dem Titel "Sounds From The Heart Of Gothenburg".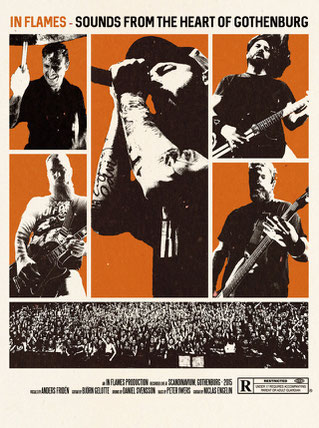 Schaut den ersten Teaser zum offiziellen Making-Of hier: https://www.youtube.com/watch?v=8oNhlHcjlCs
 
Schwammige Nostalgie oder sehnsüchtige Blicke zurück waren nie eine Option für IN FLAMES, dennoch konzentriert sich die Setlist dieser Live-DVD auf alle Zeiträume ihrer fast 25-jährigen Karriere. Mit 20 Tracks erreicht die Show aus dem Scandinavium in Göteborg eine Länge von anderthalb Stunden, jagt aktuelle Hits wie 'Through Oblivion', 'With Eyes Wide Open' oder 'Rusted Nail' durch die Arena, doch auch Old School Klassiker wie 'Trigger', 'Cloud Connected' und der rasante Finisher-Ohrwurm 'Take This Life' dürfen nicht fehlen.
 
Macht Euch bereit für eine intensive, schweißtreibende Performance vor 10.000 Fans – mit Feuer, fliegenden Crowdsurfern, Circle Pits und unschlagbaren Riffs.
 
"This DVD is for everyone who was been following our career; we have songs from the early years, the middle years and the new era. It has to be fun for us to play but also fun for the audience to watch and we try to get a good flow with nice dynamics and different songs," erklärt Gitarrist Björn Gelotte. 
 
Hier seht ihr den ersten Trailer: https://www.youtube.com/watch?v=jqLOPzggPrM

IN FLAMES sind:
Anders Fridén | Gesang
Björn Gelotte | Gitarre
Peter Iwers | Bass
Niclas Engelin | Gitarre

Weitere Infos:
www.inflames.com
www.facebook.de/inflames
www.nuclearblast.de/inflames
---
IN FLAMES zurück bei Nuclear Blast
Nuclear Blast kann mit großer Freude das weltweite Signing (außer Nordamerika und Skandinavien) der schwedischen Metal-Ikonen IN FLAMES bekanntgeben. Die 1990 gegründete Band ist weltbekannt für ihre Mitbegründung des Melodic Death Metal und des "Göteborg-Sounds". Mit elf veröffentlichen Alben, zahllosen erfolgreichen Touren, Millionen verkauften Platten und einer enormen Fangemeinde weltweit haben IN FLAMES bewiesen, dass sie eine unaufhaltbare Größe im Reich der harten Klänge sind. Vom ersten Werk »Lunar Strain« (1994) bis zur aktuellen Scheibe »Siren Charms« (2014) haben die komplizierten Twin-Guitar-Attacken, der melodische Gesang und die prächtigen Arrangements der Band einen markanten Sound verliehen, der sich über die Jahre fortentwickelt hat.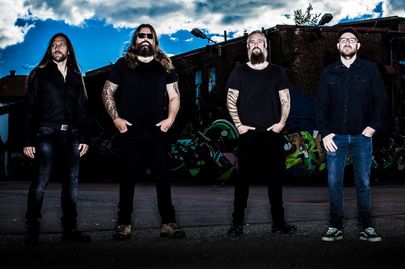 "In gewisser Weise verbindet IN FLAMES und Nuclear Blast eine ähnliche Geschichte", erklärt IN FLAMES-Sänger Anders Fridén. "Beide haben in einer Garage in Europa angefangen, beide lieben Metal und beide sind über die Jahre hinweg enorm gewachsen. Deshalb schien es für uns ein natürlicher Schritt zu sein, dorthin zurückzugehen, wo alles begann."

"Wir freuen uns enorm, dass sich IN FLAMES dazu entscheiden haben, uns ein zweites Mal ihr Vertrauen zu schenken und fortan wieder bei Nuclear Blast zuhause sind. Ich erinnere mich noch gut daran, wie mich deren Debütalbum »Lunar Strain« seinerzeit begeistert hat und ich von dieser großartigen und vollkommen eigenständigen Mischung aus Death Metal mit filigranen Melodien vollkommen fasziniert war", kommentiert Nuclear Blast-Chef Markus Staiger. "Ein Jahr später unterschrieben IN FLAMES bei uns und veröffentlichten über die Jahre hinweg acht großartige Alben, darunter wegweisende Klassiker wie »Whoracle«, »Clayman« und »Reroute To Remain«. IN FLAMES haben sich stetig weiterentwickelt, sich immer wieder neu erfunden und begeistern Fans ganz unterschiedlicher Genres für ihren stets innovativen Sound. Wir freuen uns auf die gemeinsame Zukunft mit Anders, Björn, Peter und Niclas."

Derzeit arbeitet die Band an der Veröffentlichung einer Live-DVD. Weitere Infos folgen!

IN FLAMES sind:
Anders Fridén | Gesang
Björn Gelotte | Gitarre
Peter Iwers | Bass
Niclas Engelin | Gitarre

Weitere Infos:
www.inflames.com
www.facebook.de/inflames
www.nuclearblast.de/inflames