Europas diabolische Death/Black Metal-Horde BELPHEGOR hat die Arbeit an den Schlagzeug- und Bassaufnahmen für ihr neues Album erfolgreich abgeschlossen. Dieses elfte Werk hört auf den Namen »Totenritual« und liefert neun Tracks voller finsterer Schwarzmagie und furioser Brutalität, die am 15. September weltweit veröffentlicht wird. Im Anschluss begeben Serpent [Bass, Grunts], Bloodhammer [Schlagzeug] und Sänger, Gitarrist und Gründer Helmuth Lehner sich auf große Welttournee.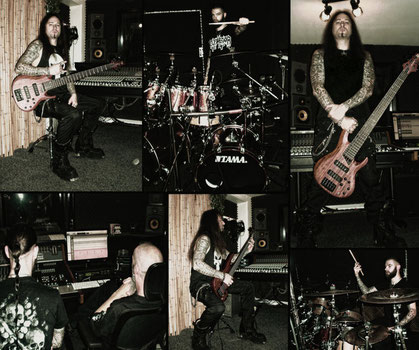 Helmuth schreibt: 
"Dies wird die brutalste, härteste Opfergabe, die wir jemals aufgenommen haben. Die Drums sind präzise und sehr technisch, mit zahlreichen Breaks, Fills und Tempowechsel. Der Bass donnert wie ein Panzer. Auch die Rhythmusgitarren sind fertig und extrem aggressiv und Obskur. Ich bin sehr stolz auf das Ergebnis bisher und wir haben damit eine neue Ausgeburt der Hölle erschaffen! Eine Ehre - dieser Horror!"

In diesem Trailer könnt Ihr den Ausnahmeschlagzeuger Bloodhammer in Aktion erleben: https://youtu.be/TALTwCqLtHU

Seht hier außerdem den exklusiven Clip, in dem BELPHEGOR den Killer 'Totenkult - Exegesis Of Deterioration' spielen, der live in ihrem "Probebunker" aufgenommen wurde. Dieser brachiale Death/Black Metal-Track wird auf der kommenden Platte enthalten sein. Dreht auf und fahrt mit ihnen zur Hölle: https://www.youtube.com/watch?v=SMT9xxBpFK4

Holt Euch BELPHEGORs aktuelle Platte »Conjuring The Dead« oder Merch der Band direkt hier:
www.nuclearblast.de/suche/belphegor

Mehr zu »Conjuring The Dead«:
'Conjuring The Dead' OFFIZIELLES MUSIKVIDEO: https://www.youtube.com/watch?v=x09sTIjual8
'Conjuring The Dead' OFFIZIELLER LIVECLIP: https://www.youtube.com/watch?v=LTbzich1t70
'Gasmask Terror' OFFIZIELLES LYRICVIDEO: https://www.youtube.com/watch?v=mAIEb9XpQ5k
'Black Winged Torment' OFFIZIELLES VIDEO: https://www.youtube.com/watch?v=OaisLnF8y54

BELPHEGOR live:
Festival Einmarsch
15.04.2017 - N - Oslo, Inferno Metal Festival
20. - 23.04.2017 - E - Mallorca, Full Metal Cruise
13.05.2017 - NL - Veghel, Veghel Deathfest
27.05.2017 - E - Barcelona, Knights Of Metal Festival
16.06.2017 - F - Clisson, Hellfest
17.06.2017 - D - Uttenhofen, Aaargh Festival
07.07.2017 - D - Ballenstedt, Rockharz Open Air
23.07.2017 - I - Brescia, Colony Open Air
16. - 19.08.2017 - D - Dinkelsbühl, Summer Breeze
 
Weitere Ritualtermine werden schon bald angekündigt...!

Weitere Infos:
www.belphegor.at
www.facebook.de/belphegor
www.nuclearblast.de/belphegor
---
BELPHEGOR arbeiten hart am neuen Album
Helmuth bezieht Stellung: "Wir haben gerade die vierte Probephase abgeschlossen. Der Prozess bestand aus 13 kraftraubenden, kreativen Tagen am Stück. Neun Kompositionen nahmen Form an, sie klingen bereits gewaltig. Es ist mir wichtig, dass wir besser werden, tighter spielen, die Dynamiken erhöhen und dass jeder Musiker seine Fähigkeiten an seinem Instrument ausbaut, damit wir unseren Klang auf ein neues Niveau hieven. Wir haben immer unser eigenes Ding gemacht und werden das auch weiterhin so handhaben."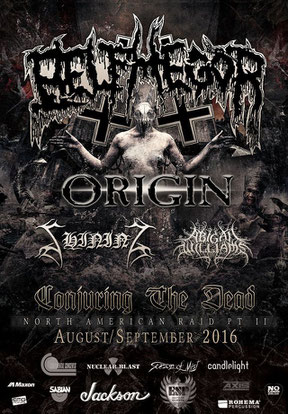 "Live-Zeremonien sind noch immer das Wesentliche von BELPHEGOR, auf Tour zu gehen und weltweit einzumarschieren ist unsere Hauptpriorität nach dem Schreiben und Veröffentlichen von neuer Musick für unsere treuen Unterstützer. Das neue, derzeit unbenannte Album wird unser finsterstes und brutalstes werden. Wir haben unsere Gitarren zum ersten Mal auf H5 und #A6 gestimmt, was extrem tief ist, das wird unserem Soundgewand einen neuen Anstrich verpassen. Die Veröffentlichung wird im April 2017 stattfinden! Wir sind immer heiß und bereit für neue Herausforderungen. Fortschritt bedeutet Experimentieren und Verbesserung. Eine Ehre - dieser Horror."

Seht hier den exklusiven Clip, in dem BELPHEGOR 'Totenkult - Exegesis Of Deterioration' spielen, der live in ihrem "Probebunker" aufgenommen wurde. Dieser brachiale Death/Black Metal-Track wird auf der kommenden Platte enthalten sein, die im April 2017 erscheinen soll.
Dreht auf und fahrt mit ihnen zur Hölle: https://www.youtube.com/watch?v=SMT9xxBpFK4

Holt Euch BELPHEGORs aktuelle Platte »Conjuring The Dead« direkt hier: http://bit.ly/BELPHEGOR-CTD

Mehr zu »Conjuring The Dead«:
'Conjuring The Dead' OFFIZIELLES MUSIKVIDEO: https://www.youtube.com/watch?v=x09sTIjual8
'Conjuring The Dead' OFFIZIELLER LIVECLIP: https://www.youtube.com/watch?v=LTbzich1t70
'Gasmask Terror' OFFIZIELLES LYRICVIDEO: https://www.youtube.com/watch?v=mAIEb9XpQ5k
'Black Winged Torment' OFFIZIELLES VIDEO: https://www.youtube.com/watch?v=OaisLnF8y54

BELPHEGOR - Festivals 2016!
10.06.2016 - CZ - Prague, Nova Chmelnice
11.06.2016 - D - Hauptmannsgrün, Chronical Moshers *AUSVERKAUFT*
16.06.2016 - A - Neudegg Alm zu Abtenau, Funkenflug Open Air
17.06.2016 - A - Vienna, Arena
18.06.2016 - SLO - Kranj, TrainStation SubArt
24.06.2016 - D - Protzen, Protzen Open Air
25.06.2016 - LT - Varniai, Kilkim Zaibu 17 Festival
08.07.2016 - IS - Neskaupstadur, Eistnaflug
22.07.2016 - F - Simandre-Sur-Suran, Ragnard Rock Festival
23.07.2016 - D - Mulfingen-Buchenbach, Boarstream Open Air
24.09.2016 - S - Hultsfred, Mörkaste Småland
Weitere Termine in Kürze...!

Weitere Infos:
www.belphegor.at
www.facebook.de/belphegor
www.nuclearblast.de/belphegor