Die niederländischen Symphonic Metal-Stars EPICA haben vor zwei Wochen die Veröffentlichung ihres kommenden Albums »The Holographic Principle« (VÖ: 30. September via Nuclear Blast) bekanntgegeben. Nachdem das Albumcover bereits publik gemacht wurde, ist es nun an der Zeit, dass die Band die Tracklist dieser mit Spannung erwarteten Platte enthüllt. Diese liest sich wie folgt: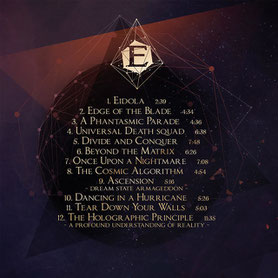 01. Eidola
02. Edge Of The Blade
03. A Phantasmic Parade
04. Universal Death Squad
05. Divide And Conquer
06. Beyond The Matrix
07. Once Upon A Nightmare
08. The Cosmic Algorithm
09. Ascension - Dream State Armageddon
10. Dancing In A Hurricane
11. Tear Down Your Walls
12. The Holographic Principle - A Profound Understanding Of Reality

Die Band kommentiert:
"»The Holographic Principle« befasst sich mit der nahen Zukunft, in der die virtuelle Realität begonenn hat und es den Leuten möglich ist, ihre eigene virtuelle Welt zu erschaffen, die nicht von der "Realität, wie wir sie kennen", unterschieden werden kann. Dies lässt die Frage aufkommen, ob unsere aktuelle Realität eine Art virtuelle Realität von sich selbst darstellt, ein Hologramm. Das deutet auf das Bestehen einer höheren Realität hin, zu der wir derzeit keinen Zugang haben. Die Lyrics fordern einen heraus, über den Tellerand hinauszuschauen, alles zu überdenken, was man mit Sicherheit zu wissen schien, und offen gegenüber aktuellen Revolutionen in der Wissenschaft zu sein. Schnallt Euch an und macht Euch startklar, denn nichts in unserem holografischen Universum scheint zu sein, wie es ist."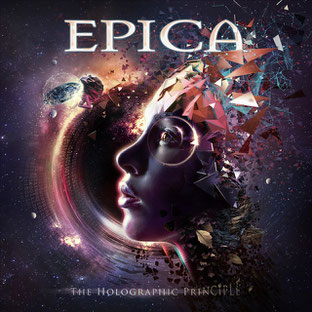 Verpasst EPICA auf keinen Fall live!
24.06.2016 - DK - Copenhagen, Copenhell
09.07.2016 - D - Geiselwind, Out & Loud Festival
16.07.2016 - H - Dunaujvaros, Rockmaraton Festival
06.08.2016 - LT -  Zarasai City, Roko Naktys
01.10.2016 - NL -  Tilburg, Epic Metal Fest

EPICA + POWERWOLF
12.01.2017 - D - Wiesbaden, Schlachthof
13.01.2017 - D - Köln, Palladium
14.01.2017 - D - Ludwigsburg, MHP Arena
16.01.2017 - CH - Geneve, Salle Des Fetes De Thonex
17.01.2017 - CH - Zurich, Volkshaus
20.01.2017 - D - München, Tonhalle
21.01.2017 - A - Wien, Gasometer
24.01.2017 - PL - Warsaw, Progresja
25.01.2017 - D - Berlin, Huxley's
27.01.2017 - D - Oberhausen, Turbinenhalle
28.01.2017 - CZ - Prag, Forum Karlin
03.02.2017 - UK - London, o2 Shepherd's Bush Empire
04.02.2017 - F -  Paris, Le Zénith

Weitere Termine in Arbeit...!

Tickets erhaltet Ihr unter www.epica.nl/tour oder im Nuclear Blast Online Shop.

EPICA-VIP-Upgrades gibt es hier: www.epica.soundrink.com

Tickets für EPICAs Show auf dem Out & Loud Festival bekommt Ihr im Nuclear Blast Online Shop.

Weitere Infos:
www.epica.nl
www.facebook.com/epica
www.nuclearblast.de/epica
---
EPICA veröffentlichen »The Holographic Principle«
Hollands größte Symphonic Metal-Institution, EPICA, hat die Arbeiten an ihrem neuen Album abgeschlossen. Dieses hört auf den Namen »The Holographic Principle« und wird am 30. September weltweit einmal mehr via Nuclear Blast Records veröffentlicht. Die Platte wurde mit Joost van der Broek in den Sandlane Recording Facilities aufgenommen. Für den Mix war Jacob Hansen (VOLBEAT, DESTRUCTION) verantwortlich. Das Artwork stammt aus der Feder von Stefan Heilemann (www.heilemania.de).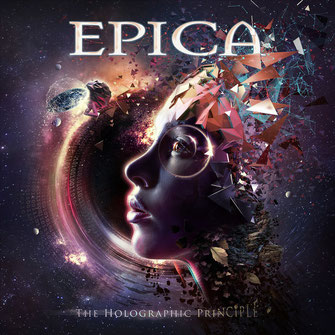 Die Band kommentiert:
"Unser mit Spannung erwartetes siebtes Studioalbum ist Wirklichkeit. »The Holographic Principle« fühlt sich für uns an wie ein von uns allen mit Blut, Schweiß und Freudentränen erschaffener Schatz. Im vergangenen Jahr haben wir hart gearbeitet, um dieses spezielle Album zu schreiben und aufzunehmen. Wir können es alle kaum erwarten, es mit Euch zu teilen! Begleitet uns auf unserer neuen musikalischen Reise."

Um die Veröffentlichung von EPICAs brandneuem Album gebührend zu feiern, wird die Band am Samstag, den 01. Oktober, bei ihrem eigenen Festival, dem Epic Metal Fest in Tilburg, Niederlande, auftreten. Sie haben KATATONIA, ihre Labelkollegen FLESHGOD APOCALYPSE und (ebenfalls Landsleute) TEXTURES zu diesem besonderen Ereignis eingeladen. Desweiteren werden STREAM OF PASSION, THE AGONIST, MAYAN, MYRATH, EVIL INVADERS und zu guter Letzt OFF THE CROSS bei EPICAs Releaseshow auftreten. Am Samstag, den 15. Oktober wir die brasilianische Ausgabe des Epic Metal Fests in Sao Paulo stattfinden. PARADISE LOST, FINNTROLL, XANDRIA und THE OCEAN werden EPICA bei diesem ersten Event begleiten.

Weitere Infos & Tickets: http://www.epicmetalfest.com/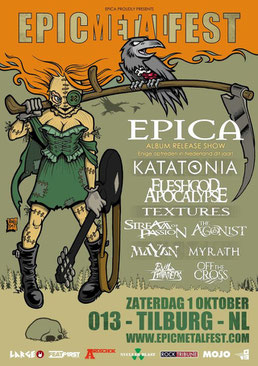 EPICA live:
04.06.2016 - BY - Minsk, Re:public
05.06.2016 - CZ - Plzen, Metalfest Open Air
07.06.2016 - SK - Bratislava, Majestic Music Club
08.06.2016 - I - Rome, Rock In Rome
10.06.2016 - S - Sölvesborg, Sweden Rock Festival
24.06.2016 - DK - Copenhagen, Copenhell
09.07.2016 - D - Geiselwind, Out & Loud Festival
16.07.2016 - H - Dunaujvaros, Rockmaraton Festival
05./06.08.2016 - LT - Zarasai City, Roko Naktys
01.10.2016 - NL - Tilburg, Epic Metal Fest Netherlands

w/ POWERWOLF
03.02.2016 - UK - London, o2 Shepherd's Bush Empire
04.02.2016 - F - Paris, Le Zénith
Tickets für EPICAs Show auf dem Out & Loud Festival bekommt Ihr im Nuclear Blast Online Shop.

Weitere Infos:
www.epica.nl
www.facebook.com/epica
www.nuclearblast.de/epica