Mehr als ein Jahr lang hat die österreichische Symphonic Metal-Band Edenbridge um Sängerin Sabine Edelsbacher an ihrem neuen Album gearbeitet, jetzt gibt Gitarrist/Komponist Lanvall den Veröffentlichungstermin bekannt: The Great Momentum erscheint am 17. Februar 2017.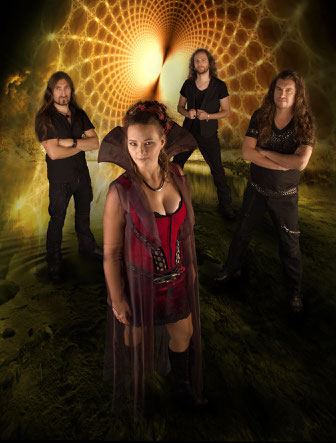 Wie bereits der Vorgänger The Bonding (2013) wurde auch The Great Momentum von Lanvall produziert, gemischt hat erneut Karl Groom (Threshold) in seinem englischen ´Thin Ice Studio`, das Mastering stammt von Mika Jussila (u.a. Stratovarius) in den renommierten ´Finnvox Studios`. Unter den Gästen befinden sich Sänger Erik Martensson (Eclipse, W.E.T, Nordic Union) und die Junge Philharmonie Freistadt. Außerdem stellen Edenbridge mit dem kommenden Album ihren neuen Schlagzeuger Johannes Jungreithmeier vor, der mit seinem energetischen Drumming zur großen Dynamik der Scheibe beigetragen hat und im Februar in Österreich und im März mit Edenbridge auf Vietnam-Tournee geht.
Lanvall: "Wir freuen uns, mit The Great Momentum unser bislang härtestes aber auch zugleich bombastischstes Album präsentieren zu können. Ich bin fest davon überzeugt, dass meine Begeisterung durch die Reaktionen der Fans bestätigt werden."
"The Great Momentum" erscheint am 17.02.2017 über SPV/Steamhammer als 2CD Digi (Bonus CD mit Instrumentalversionen), 2LP Gatefold (goldenes Vinyl), Boxset (incl. 2CD Digi, 2LP, Poster, Sticker, Button, Patch, Mousepad, handsignierte Autogrammkarte), Download und Stream.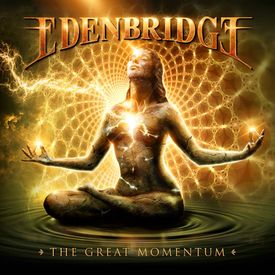 Tracklisting
01. SHIANTARA (5:51)
02. THE DIE IS NOT CAST (5:15)
03. THE MOMENT IS NOW (4:21)
04. UNTIL THE END OF TIME (4:36)
05. THE VISITOR (5:54)
06. RETURN TO GRACE (5:13)
07. ONLY A WHIFF OF LIFE (3:44)
08. A TURNAROUND IN ART (7:32)
09. THE GREATEST GIFT OF ALL (12:18)
LIVE
24.02.2017 - A - Traun, Spinnerei
26.02.2017 - A - Wien, Szene
LINE-UP:
Sabine Edelsbacher: Lead Vocals
Lanvall: Lead & Rhythm Guitars, Bass, 6 & 12 String Acoustic Guitars, Nylon Guitar, Piano & Keyboards, Hammered Dulcimer, Bouzouki
Dominik Sebastian: Lead & Rhythm Guitars, Nylon Guitar
Johannes Jungreithmeier: Drums
---
EDENBRIDGE - neues Album erscheint 2017
EDENBRIDGE VERÖFFENTLICHEN NEUES ALBUM "THE GREAT MOMENTUM"!!!
EDENBRIDGE werden im Juni das Studio entern, um ihr 9.Album "THE GREAT MOMENTUM" einzuspielen. Das Album wird  im Feburar 2017 von Steamhammer/SPV veröffentlicht.
Gitarrist Lanvall: "Ein volles Jahr des Songwritings und Arrangierens liegen hinter mir und ich freue mich nun sehr auf die eigentlichen Aufnahmen. Nach dem ruhigen und melancholischen 1. Album "Everflow" des Akustikprojekts VOICIANO und der riesigen 6 DVD Dokumentation über die ersten 15 Jahre EDENBRIDGE, war es nun an der Zeit sich wieder voll und ganz auf neue, symphonische und bombastische Klangwelten zu fokussieren.
Ich bin sehr glücklich mit den neuen Songs, da sie einerseits unseren eigenen Stil fortführen, aber auch viele neue Facetten in den Sound mit integrieren. Die Musik erscheint mir insgesamt heavier als auf dem Vorgänger "The Bonding" und die Orchesterparts und Refrains sind noch prägnanter und bombastischer als in der Vergangenheit!
"The Great Momentum" transportiert für mich musikalisch alles, was EDENBRIDGE im Jahr 2016 ausmacht. Das geht von der kurzen, sentimentalen Ballade "Only A Whiff Of Life" bis hin zum monumentalen 12 minütigen Longtrack "The Greatest Gift Of All".
Zudem arbeiteten Sabine und ich gemeinsam an den Texten zu 5 der 9 Songs. Diesen kreativen Prozess starteten wir bereits bei unserem gemeinsamen Akustikprojekt VOICIANO und Titel wie "A Turnaround In Art", "The Die Is Not Cast" und "Return To Grace" sind großartige Zeugen dessen!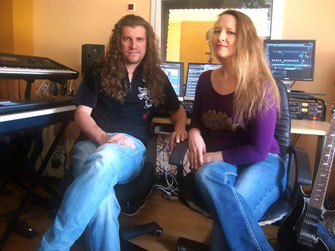 Sängerin Sabine Edelsbacher: "Unser neuestes Schaffen zeigt wie ich meine, dass es bei uns keinen Stillstand gegeben hat, obgleich die Frequenz der reinen Albumproduktionen in größeren Abständen erfolgt als früher. Eine solch anspruchsvolle Produktion braucht einfach Zeit um zu reifen und EDENBRIDGE steht für Qualität vor Quantität.
Wie schon erwähnt war unsere Zusammenarbeit bei den Texten auch für mich wieder besonders schön. Lanvall und ich ergänzen uns hierbei bestens und das Resultat ist wiederum tiefsinnig und wie ich hoffe inspirierend für Freigeister wie wir es eben gerne sind.
Stimmlich gesehen merke ich eine stetige Weiterentwicklung obgleich ich in Ruhezeiten verhältnismäßig wenig singe. Nach wie vor arbeite ich stetig an Ausdruck und Dynamik, und ein neues Album einzusingen motiviert besonders daran zu feilen, sowie neue stimmliche Nuancen zu entdecken und zuzulassen.
Insgesamt kann ich nur sagen: es hat sich einiges getan in unser aller Leben und man wird das auch auf unserem neuen Album hören und fühlen!"
Mehr Infos zum neuen Album in den nächsten Wochen. Seid gespannt!!!
https://www.facebook.com/pages/Edenbridge/65841432999