Die Kalifornier von CARNIFEX werden ihr neues Album »Slow Death« am 5. August über Nuclear Blast veröffentlichen. Das Album wurde aufgenommen und produziert von CARNIFEX und Mick Kenny (ANAAL NATHRAKH,BLEEDING THROUGH). Co-Produzent war niemand geringeres als Jason Suecof (DEATH ANGEL, CHELSEA GRIN, JOB FOR A COWBOY). Gemixt wurde »Slow Death« von Mark Lewis (THE BLACK DAHLIA MURDER, WHITECHAPEL, DEVILDRIVER, DEICIDE) in den Audiohammer Studios in Sanford, Florida. Das Cover-Artwork des Albums wurde vom renommierten Künstler und Langzeitmitglied des Teams, Godmachine.
 
Seht einen kurzen Teaser mit Musik & Artwork hier.

"Album number six, over 10 years as a band and we have more fire and passion than ever", so Sänger Scott Ian Lewis. "This album will reshape our genre and be looked back on as an album that started a new movement for aggressive, dark metal. We're going to show those who love us and those who hate us just how far reaching our ambition is." 

CARNIFEX' letztes Album, »Die Without Hope«, stieg in den deutschen Albumcharts im März 2014 auf Platz 81 ein.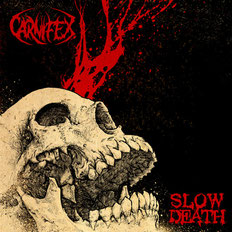 »Slow Death« track list:
01. Dark Heart Ceremony            
02. Slow Death 
03. Drown Me In Blood 
04. Pale Ghost  
05. Black Candles Burning            
06. Six Feet Closer To Hell            
07. Necrotoxic  
08. Life Fades To A Funeral         
09. Countess Of The Crescent Moon      
10. Servants To The Horde

Mehr zu »Die Without Hope«:
'Die Without Hope' music video https://youtu.be/kOtgze9J708
Studio Blog Part 1 http://youtu.be/oNyT0_Q7cG0 
Studio Blog Part 2 http://youtu.be/91DHvXWzMRw
Studio Blog Part 3 http://youtu.be/3cyIXTg7CfE
'Dark Days' Lyric Video: http://youtu.be/By0LmL9aPG0
'Dragged Into The Grave' Lyric Video http://youtu.be/b1hafyakGXE
'Dragged Into the Grave' guitar lesson http://youtu.be/Jifp1Cal8Jk
'Condemned to Decay' guitar lesson http://youtu.be/sSz5kAnHsTg

CARNIFEX is:
Scott Lewis – Vocals
Shawn Cameron – Drums
Jordan Lockrey – Guitar
Cory Arford – Guitar
Fred Calderon - Bass

www.facebook.com/carnifexmetal