Über 2 Tage, am Freitag, 10.11.2017 ab 17 Uhr und am Samstag, 11.11.2017, ab 16 Uhr, wird bei dem durch das LOCAL RADIO BREMEN veranstalteten 8. BREMER METAL FESTIVAL in Bremens angesagtem Live-Club "Meisenfrei Blues Club", Hankenstr. 18, 28195 Bremen wieder Thors Hammer kreisen!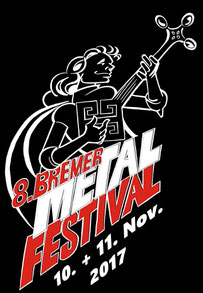 Für Freunde des Stils klassischer Heavy Metal-Bands wie IRON MAIDEN, JUDAS PRIEST, MANOWAR, HELLOWEEN, PRIMAL
FEAR. DIO, SAXON oder QUEENSRYCHE ist
am 11.11.1017 bei TARCHON FIST aus Italien als Co-Headliner auf dem BREMER METAL FESTIVAL ausgelassenes Headbangen
und Faustrecken angesagt!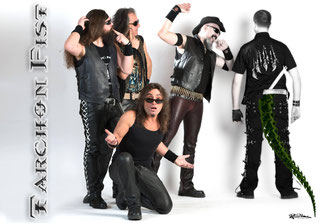 Aktuelles Bandbild von TARCHON FIST mit ihrem neuen Drummer, anspielend auf den Slogan der Band: "Proud to be dinosaurs!"
---
TARCHON FIST - Videoclip mit Fanunterstützung geplant
Zum Titelsong des am 05.02.2016 veröffentlichten Albums "Celebration" von TARCHON FIST ist ein Video-Clip geplant!
Hierfür haben
TARCHON FIST
auf ihrer
Facebook-Seite
ihre Fans eingeladen, als Darsteller in dem Video für "Celebration" mitzuwirken, wie es auch in dem Video zum Titelsong des 2013er Albums "Heavy Metal Black Force" der Fall war.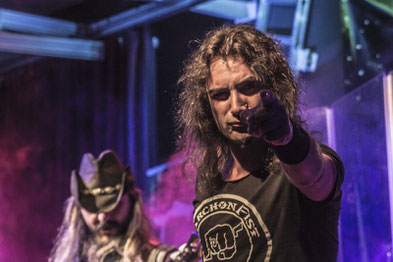 Hörbeispiele aus dem Album "Celebration" (2016): https://soundcloud.com/puresteelpromotion/tarchon-fist-we-are-the-legion
 
Die Arbeiten für das Video werden voraussichtlich in der Zeit 3./4./5. Juni 2016 in Bologna aufgenommen.
 
Lvcio Tattini, Gitarrist und Haupt-Songschreiber von TARCHON FIST, äußerte sich zu den nächsten Zielsetzungen seiner Band am 25.04.2016:
"Der Videoclip zu "Celebration" stellt den Abschluss unserer Arbeiten für dieses Album dar. Wir arbeiten momentan an unserer neuen CD...einer echten neuen CD...!!!
Wir hoffen auf eine Zusammenarbeit mit einem guten deutschen Label!!! :) Es wird eine Promo-EP mit 4 neuen Songs geben, die wir an interessierte Labels geben wollen.
Meine Zusammenarbeit mit "IL MALE PRODUCTION" beschränkt sich nur auf einzelne oder Promotionarbeiten. Ich hoffe, in Deutschland ein starkes Label für die Band
zu finden! Als nächsten Schritt werden wir das neue Album erstellen, so etwa sieht das Konzept aus..."