Die multi-nationale Newcomer-Sensation BLUES PILLS hat das Cover-Artwork ihres ungeduldig erwarteten zweiten Albums enthüllt (siehe oben). »Lady In Gold« wird am 5. August erscheinen und zehn brandneue Songs enthalten (siehe Tracklist unten).

Bassist, Gründungsmitglied und Hauptsongwriter Zach Anderson: "The design comes from the dutch artist Marijke Koger-Dunham who already worked with us for the first album cover. We are super proud to have the opportunity to work with such a legendary artist who has even worked with THE BEATLES, CREAM and many more. The original design was made by her 50 years ago. We worked together to adapt the colors to fit the mood of the album. Hopefully our fans will like it as much as we do."

Sängerin Elin Larsson erklärt die Wahl des Albumtitels: "Lady gold is a character who symbolizes death. We wanted a twist on the typical stereotype of death being the grim reaper. So instead we made her a lady in gold."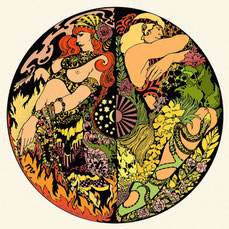 »Lady In Gold« tracklisting:
01. Lady In Gold
02. Little Boy Preacher
03. Burned Out
04. I Felt A Change
05. Gone So Long
06. Bad Talkers
07. You Gotta Try
08. Won't Go Back
09. Rejection
10. Elements And Things

Wie bereits das überaus gefeierte Debüt, wurde auch »Lady In Gold« von Don Alsterberg (GRAVEYARD, DIVISION OF LAURA LEE, JOSÉ GONZÁLEZ, JERRY WILLIAMS) produziert. Weitere Info folgt in Kürze.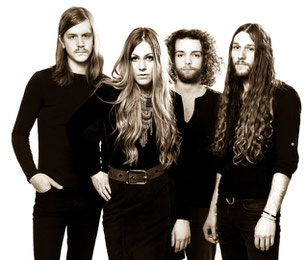 Festivals 2016
23.06.2016 - NO - Halden, Tons Of Rock
24.06.2016 - D - Neuhausen ob Eck, Southside
25.06.2016 - D - Eichenring bei Scheeßel, Hurricane
30.06.2016 - DK - Roskilde, Roskilde Festival
01.07.2016 - S - Norrköping, Bravalla Festival
02.07.2016 - NO - Skanevik, Skanevik Blues Festival
07.07.2016 - S - Börlange, Peace & Love Festival
08.07.2016 - PL - Suwalki, Suwalki Blues Festival
09.07.2016 - LUX - Differdange, Blues Express
16.07.2016 - A - Bludenz, Woodrock
19.07.2016 - F - Colmar, Grillen
23.07.2016 - UK - Gwent, Steelhouse Festival
28.07.2016 - D - Breitenbach am Herzberg, Burg Herzberg Festival
30.07.2016 - D - Bornich, Loreley
31.07.2016 - D - Mosbach, Großer Elzpark
12.08.2016 - A - Bildein, Picture On festival
18.08.2016 - B - Hasselt, Pukkelpop Festival
19.08.2016 - D - Torgau, Rock & Blues Nacht
20.08.2016 - D - Dinkelsbühl, Summer Breeze
11.11.2016 - D - Weissenhäuser Strand, Metal Hammer Paradise

Club Shows
12.07.2016 - D - Heidelberg, Halle 02
13.07.2016 - A - Salzburg, Rockhouse
15.07.2016 - D - Regensburg, Airport Obertraubling
17.07.2016 - D - Augsburg, Musikkantine
20.07.2016 - D - Worpswede, Music Hall
26.07.2016 - D - Siegburg, Kubana

»Lady In Gold« Tour 2016 -+ KADAVAR+ special guest
30.09.2016 - S - Stockholm, Debaser
01.10.2016 - S - Gothenburg, Pustervik
23.10.2016 - F - Nimes, La Paloma
25.10.2016 - E - Madrid, Joy Eslava
26.10.2016 - E - Barcelona, Apolo
28.10.2016 - F - Bordeaux, Le Rocher de Palmer
29.10.2016 - F - Rouen, Le 106
01.11.2016 - UK - Wolverhampton, Slade Rooms
02.11.2016 - UK - Glasgow, Classic Grand
04.11.2016 - IRL - Dublin, Voodoo Lounge
05.11.2016 - UK - Manchester, Club Academy
06.11.2016 - UK - London, Koko
08.11.2016 - UK - Bristol, Marble Factory
09.11.2016 - F - Nancy, L´Autre Canal

Mehr zu BLUES PILLS:
'High Class Woman' music video: https://youtu.be/I9y9fCZGHk4
'No Hope Left For Me' music video: https://youtu.be/iV9XFldAi7w
'Gypsy' music video: https://youtu.be/AFaqK1VShtk
'Devil Man' lyric video: https://youtu.be/g6p2R8jaUW0
'Jupiter' lyric video: https://youtu.be/R5Evh8E3_oI

www.bluespills.com