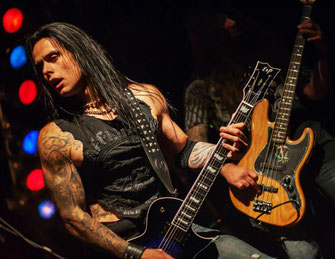 "We are very proud to announce that Mr. Bill Hudson from Brazil is the new guitarist of Dirkschneider/UDO! Bill is based in the United States, but has already been in Pulheim a few weeks ago to join the songwriting session for our next album which we will start recording soon.
Bill fits in in every way perfectly with us and builds a fantastic guitar team together with Andrey Smirnov. He is very experienced and has shared the stage with several known bands, most notably Circle II Circle, Jon Oliva's Pain and TSO for the last few years. It's not really necessary to talk about his skills, simply check it out on our next tour and you will see what we're talking about!
After Kasperi left the band we have received many suggestions and applications from great guitar players from all over the planet. At the same time, we started getting hints from different and unrelated people in the business pointing straight into the same direction, telling us to check out this Brazilian/American guy.  Once in Germany he convinced everybody from the get go and it was very clear that this guy had all the requirements to become the new band member.
We are REALLY looking forward to kick ass even more so than ever before…….."
---
DIRKSCHNEIDER - Tour wird fortgesetzt
"Dear Fans, Friends and Partners,
 
We want to let you know that we have decided to continue with DIRKSCHNEIDER!
Originally it was our plan to go back to touring with U.D.O. in 2017. But we have received an incredible number of emails and letters from fans begging us to continue with DIRKSCHNEIDER, and as there are still so many (Accept) songs left to be sung, we have decided to bow to your demands!
During the last tours with DIRKSCHNEIDER, the audience had a lot of fun, and we as a band also had the time of our lives on stage. In fact, a whole lot of people in countries all over the world have been knocked out by these shows. Just check out all the media (especially from the US, where we have just finished a 5 week tour) and you will read the caption "tour of the year" multiple times……
We are thrilled by the idea of continuing and we are really looking forward to seeing you all again live on tour!
Oh, we nearly forgot to tell you about possibly the most important point of all: From Oct 2017 on, Dirkschneider will tour with an almost completely NEW setlist. Of course, it will still contain only Accept hits, but this time with many different songs compared to the last tours."
DIRKSCHNEIDER TOURDATES:
02.12.2017 - D - Leipzig, Haus Auensee
03.12.2017 - D - Oberhausen, Turbinenhalle
05.12.2017 - D - Hamburg, Grosse Freiheit
06.12.2017 - D - Hannover, Capitol
07.12.2017 - D - Bremen, Aladin
09.12.2017 - D - Osnabrück, Hyde Park
10.12.2017 - D - Berlin, Huxley´s Neue Welt     
12.12.2017 - D - Köln, Essigfabrik
15.12.2017 - D - Tuttlingen, Stadthalle
17.12.2017 - D - Stuttgart, LKA
19.12.2017 - CH - Pratteln, Z7
22.12.2017 - D - Geiselwind, Eventhalle
23.12.2017 - D - Mannheim, Maimarkthalle Club
Tickets: https://www.adticket.de/Dirkschneider.html
---
DIRKSCHNEIDER erhält "Sold Out"-Award für die erfolgreichste Tour seiner (Solo-)Karriere
Im Rahmen der gestrigen Show in der ausverkauften Halle 02 in Heidelberg bekam Rock-Legende Udo Dirkschneider einen Sold Out-Award für seine derzeit über alle Maßen erfolgreich verlaufende DIRKSCHNEIDER-Tournee verliehen. Sage und schreibe 31 von insgesamt 48 Europa-Konzerten meldeten ausverkauft. Manager und Tourneeveranstalter Frank Süpfle/ITM Agency überreichte dem Künstler die Auszeichnung während der Show.
"Es ist unfassbar, was da gerade passiert", zeigte sich der Künstler sichtlich geehrt. "So einen Ansturm hätte ich nicht erwartet. Es ist schön zu sehen, wie viele mich auf meiner persönlichen Abschlusstour zum Kapitel ACCEPT begleiten."
Anfang der 80er erlebte der Sänger mit der charismatischen Stimme seinen weltweiten Durchbruch mit ACCEPT. "Ich habe nach wie vor riesigen Spaß, die Songs live zu singen", so Udo Dirkschneider. "Sie gehören ja zu meiner Biografie und letztendlich auch zu meiner Stimme. Aber dennoch ist es im Leben eben auch mal an der Zeit, ein Kapitel abzuschließen. Es wurde so viel über ACCEPT geredet und so viel spekuliert. Ich gebe dazu nun mein finales musikalisches Statement ab – offenbar vor großem Interesse von Seiten der Rockfans."
Aufgrund der extrem großen Nachfrage wird die DIRKSCHNEIDER Tour zum Jahresende hin fortgesetzt werden. Nach den erfolgreichen Europashows geht es für die Band nun erst einmal für etliche Shows nach Israel und Japan, gefolgt von zahlreichen namhaften Sommerfestivals. Der Vorverkauf für die Winter-Shows startet in Kürze.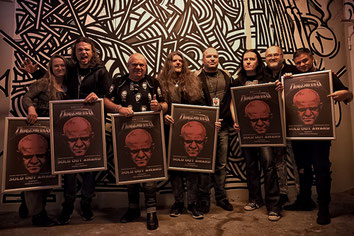 01.11.2016 - NO - Oslo, Vulcan Arena
03.11.2016 - S - Umea, Idun
04.11.2016 - S - Borlänge, Liljan
05.11.2016 - S - Örebro, Frimis
06.11.2016 - S - Linköping, Garden
18.11.2016 - S - Stockholm, Rock at Sea
03.12.2016 - D - Vacha, Vachwerk
08.12.2016 - A - Dornbirn, Conrad Sohm
09.12.2016 - CZ - Brno, Hala Vodova
11.12.2016 - D - Oberhausen, Turbinenhalle
15.12.2016 - D - Nürnberg, Loewensaal
16.12.2016 - D - Memmingen, Kaminwerk
17.12.2016 - D - Karlsruhe, Schwarzwaldhalle - Knock Out Festival
18.12.2016 - D - Solingen, Cobra
Weitere Shows folgen!