Für die kommenden Shows, Tourneen und Releases stellen Leaves' Eyes ihre neue Frontfrau vor: Elina Siirala, eine finnische Sängerin die derzeit in London lebt. Leaves' Eyes und deren bisherige Sängerin Liv Kristine trennen sich aus persönlichen Gründen.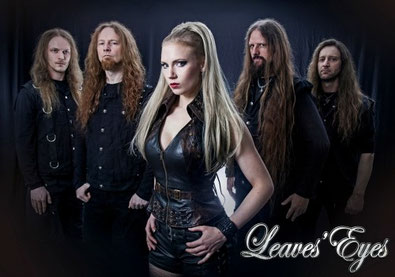 Leaves' Eyes: "Liv was the female voice of the band since the beginning in 2003. Together we toured through 50 countries and 5 continents, moreover we recorded 6 studio albums with outstanding singer Liv. We are full of pride in what we have reached together! From the bottom of our hearts we want to thank Liv for amazing 13 years of being our front lady, the work we have done together and all the passion for music that we shared all these years! We wish Liv all the best for the future, her solo career and other projects! Liv will always be an important part of the Leaves' Eyes history but now we are looking forward to a new chapter and the new musical adventures of Leaves' Eyes!"
Liv Kristine kommentiert: "I am highly proud of having been founding member and front lady of Leaves' Eyes, which has played a vital role in my life since 2003. Good luck guys, thank you for the amazing music, outstanding moments with our worldwide audiences, moreover, the passion we all share. Love, Liv"
Elina sagt: "I can't quite express how grateful and honored I am for being asked to join Leaves' Eyes, one of the most iconic bands in symphonic metal! I have the utmost respect for Liv and the band and what they've achieved over the years! I take on this challenge with a huge excitement and look forward to the new chapter in my career. It's truly thrilling to be working with such talented musicians who also are some of the nicest people I've met. My biggest passion is to make music and perform, so right now I can't wait to see what the future will bring!"
Leaves' Eyes: "We embrace Elina with open arms and hearts! She is a fantastic singer and performer. Please, welcome the new female voice of Leaves' Eyes: Sensational Elina Siirala!"
Ausserdem wird es eine Earbook-tour edition von "King of Kings" geben, inkl. einer neuen Version mit Videoclip zu "Edge Of Steel" gesungen von Elina, welche im Juni erscheint!
Stay tuned for more news!
LEAVES' EYES - WORLD TOUR 2016 / 2017
14.02.2016 - ISR - Tel Aviv, Symphonic Fest Israel
17.04.2016 - IDN - Jakarta, Hammersonic Festival
28.04.2016 - D - Lübeck, Rider's Café
29.04.2016 - DK - Copenhagen, High Voltage
30.04.2016 - NL - Eindhoven, Effenaar
01.05.2016 - B - Roeselare, De Verlichte Geest
12.05.2016 - D - Aschaffenburg, Colo-Saal
13.05.2016 - D - Leipzig, Wave Gotik Treffen (Viking Show with Swords stage set)
14.05.2016 - CH - Pratteln, Masters of Symphonic Metal
10.06.2016 - D - Rockfels, Loreley
08.07.2016 - LV - Lone, Zobens un Lemess festival
21.08.2016 - BY - Rechitsa, Metal Crowd Festival
03.-08.09.2016 - D - Full Metal Cruise
22.10.2016 - B - Wieze, Metal Female Voices Festival (Viking ship Special show)
Dates & tickets: http://www.leaveseyes.de/tour