Stream zur ersten Single 'Invader' ist online!

Vinyl Re-issues von 'Haunted' und 'Warpath' erscheinen am 13. Mai!

Am 27. Mai werden SIX FEET UNDER das vierte Album ihrer Reihe 'Graveyard Classics' veröffentlichen. Diesmal zollt die Band zwei der größten Metal-Legenden überhaupt Tribut: Iron Maiden und Judas Priest! 'Graveyard Classics IV: The Number of the Priest' umfasst fünf Coverversionen von Judas Priest (A-Seite) und sechs von Iron Maiden (B-Seite), eigens ausgesucht von Metal Blades Geschäftsführer Brian Slagel. Einen ersten Vorgeschmack bekommt ihr mit dem Stream des Songs 'Invader' auf metalblade.com/sixfeetunder, wo ihr die Scheibe auch in unterschiedlichen Formaten vorbestellen könnt.

Über die neuen Death-Metal-Tribute erzählt SIX FEET UNDERs Gründer Chris Barnes: "Macht euch bereit auf kaputte Ohren und Kopfschmerzen! 'Graveyard Classics IV: The Number of the Priest' ist frisch aus der Gruft des Heavy Metal geschlüpft! Spaß zu haben, darum ging es mir seit Beginn, und auch 'Graveyard Classics' bedeutet genau das für mich … einen Heidenspaß! Auf diesem Nostalgietrip huldigen wir Judas Priest und Iron Maiden, die zu den größten Bands aller Zeiten gehören. Ray Alder von Fates Warning steuerte als Gast Hintergrundgesang auf 'Invader' bei, unserer ersten Single. Ray ist ein guter Freund und Wahnsinns-Frontmann. Außerdem fand ich, dass sich unsere unterschiedlichen Stile prima ergänzen für den Mittelteil des Songs, weil er meiner rauen Stimme Harmonien hinzufügen kann. Hoffentlich gefällt euch unsere Version dieser Kultlieder!"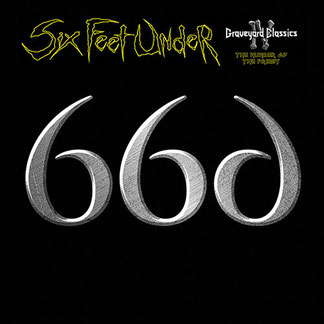 Graveyard Classics IV: The Number of the Priest Trackliste:
A-Seite: Judas Priest
01. Night Crawler
02. Starbreaker
03. Genocide
04. Invader
05. Never Satisfied
B-Seite: Iron Maiden
06. Murders in the Rue Morgue
07. Prowler
08. Flash of the Blade
09. The Evil That Men Do
10. Stranger in a Strange Land
11. Total Eclipse

SIX FEET UNDER touren in diesem Sommer im Rahmen ausgewählter Shows durch Europa. Chris Barnes dazu: "Graveyard Classics The Tour beginnt am 30. Juni und dauert bist zum 9. Juli, dann spielen wir wieder beim allzeit genialen With Full Force Open Air! Ich freue mich darauf und auf die Tatsache, dass wir nur Coversongs zum Besten geben werden, was wir bisher noch nie getan haben. Deshalb werden das ein paar ganz besondere Konzerte. Solltet ihr im Sommer zufällig in der Nähe sein, dürft ihr's nicht verpassen!"

SIX FEET UNDER live:
30.06.2016 - NL - Rotterdam, Baroeg
01.07.2016 - D - Roitzschjora, With Full Force Festival
02.07.2016 - D - Flensburg, Roxy
03.07.2016 - D - Rostock, Alte Zuckerfabrik
04.07.2016 -   - TBA
05.07.2016 -   - TBA
06.07.2016 - A - Innsbruck, PMK
07.07.2016 - D - Ludwigsburg, Rockfabrik
08.07.2016 - CH - Pratteln, Z7
09.07.2016 - D - Essen, Turock

Am 13. Mai, also zwei Wochen vor der Veröffentlichung von 'Graveyard Classics IV: The Number of the Priest', bringen Metal Blade Records Vinyl-Versionen der Klassiker 'Haunted' und 'Warpath' heraus.

Beide Alben erscheinen auf schwarzem Vinyl und in zwei verschiedenfarbigen Fassungen. Diese LPs gehören zur Reihe Metal Blade Originals, die wir zu Beginn des Jahres mit den Neuauflagen der SLAYER-Titel 'Show No Mercy', 'Hell Awaits', 'Haunting The Chapel' und 'Live Undead' sowie zwei Scheiben von NASTY SAVAGE lanciert haben.

Die Vinyle von SIX FEET UNDER kommen in 400g schweren Cardboard-Spine-Hüllen (Inside-out-Druck) mit A2-Artwork-Postern und 250g schweren Einlegern.

SIX FEET UNDER sind:
Chris Barnes - Vocals
Ray Suhy - Gitarre/Bass
Josh Hall - Drums

https://www.facebook.com/sixfeetunder
https://twitter.com/sixfeetofficial