Das neue GLORYFUL Album trägt den Namen "End Of The Night" und wird am 26. August 2016 bei Massacre Records erscheinen!
Es führt die Story des Vorgängeralbums "Ocean Blade" fort: Nach dem Ableben von Captain McGuerkin kehrt seine Seele auf "End Of The Night" zurück, um die Nachfahren seiner gefallenen Crewmitglieder in die Schlacht zu führen und seinen Tod zu rächen.
Dies spiegelt sich auch im Coverartwork des Albums wider, für das abermals Kris Verwimp verantwortlich ist.
Die Band kommentiert das wie folgt: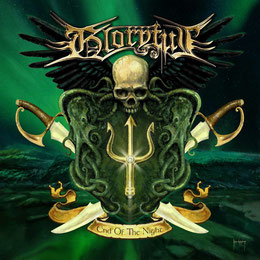 "Das Coverartwork zeigt das Schild des zum König ernannten, aus dem Totenreich befreiten King Guerkin. Die Spuren seines Grabes am Meeresgrund sind deutlich erkennbar: So ist das Schild von Algen überwachsen und von Kraken gesäumt. Der Dreizack mit dem Sacred Star und die gekreuzten Säbel verweisen auf vergangene und kommende Schlachten und die schwarzen Schwingen sind die des Rabens, der der Sage entsprechend die Toten ins Reich der Lebenden zurückbringt."
GLORYFULs neues Album "End Of The Night" wurde von Charles Greywolf im Studio Greywolf gemischt und gemastert.
GLORYFUL Live
14.-16.07.2016 - D - Neukirchen-Vluyn, Dong Open Air
27.07.2016 - SI - Tolmin, MetalDays Festival
02.-03.09.2016 - D - Katzenbach, Metallergrillen Open Air
Links:
https://www.facebook.com/gloryful
https://www.twitter.com/gloryfulmetal
https://www.youtube.com/user/GloryfulMetal