"Oh, Namenloser! Wir können uns aus der Asche des Schicksals erheben!"
'Chaotische Künste'

SVOID wurden im Dezember 2009 von Sänger und Tieftöner 'S' in Ungarn gegründet, um die Verknüpfung zwischen allem und nichts auf musikalische Weise individuell zu definieren.
Mithin wollte der spirituell beschlagene Geist damit auch das formlose Ende allen Seins repräsentieren. Das erste Songmaterial wurde 'Ars Kha' ('Chaotische Kunst') betitelt, entwickelt im Herbst 2010. Überwiegend ging es dabei in die klassische Black Metal-Richtung. Zu dem Zeitpunkt kam Drummer Dániel dazu, womit das erste arbeitsfähige Line-Up entschlossen am Start war. 'Ars Kha' wurde schließlich im April 2011 von der Kette gelassen.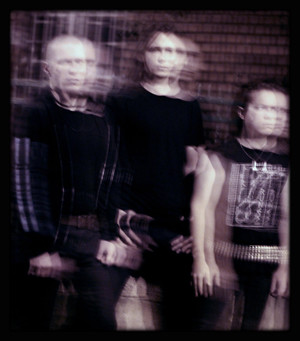 Um SVOID auch als zeremoniell konzipierten Live-Act zu etablieren, gesellten sich nachfolgend Gitarrist György and Bassist Péter dazu. Zusammen sollte so die gemeinsame Hingabe an eine geheimnisvolle, allumfassende Leere kultiviert werden. Die erste Zeremonie dieser vier sehr speziellen Individuen wurde in der magischen Walpurgisnacht 2011 vollzogen.
Ende 2011 trennte sich die Horde von Péter und Tamás trat dem Bandzirkel an der Gitarre bei. Das Debütalbum 'To Never Return' wurde im Mai 2012 im Abnormal Studio aufgenommen. Veröffentlicht wurde die Scheibe als Eigenpressung im Februar 2013 in einer speziellen Digipak-Version. Den Vertrieb teilten sich Sun & Moon Records sowie Ván Records und Sigillvm Tenebrae Records.
'Geheiligte Nächte'
Das Ensemble spielte im Weiteren diverse Gigs im ungarischen Raum, wobei man die dortigen Bühnen mit etablierten Truppen wie Enslaved, Winterfylleth, Year Of The Goat und Denial Of God teilte.
Von abermaligen Besetzungswechseln nicht verschont, kämpften sich SVOID dennoch kontinuierlich tapfer nach vorne. Weitere dunkle Rituale wurden somit als Trio aufgeführt.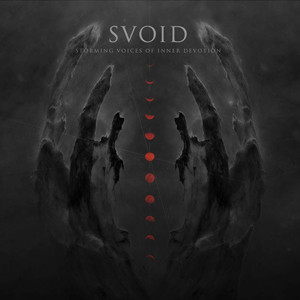 'Teufelsblut'
Aufgrund maßgeblicher Veränderungen in der Besetzung und Einstellung, entschlossen sich SVOID dazu, die nächste Phase ihres Werdegangs mit modifizierter Instrumentierung anzugehen. Dazu wurde 2015 auch eine besondere Watain-Coverversion von 'Devil's Blood' für die Ewigkeit konserviert. Ziel damit war es, den okkulten Glanz und die stilistisch grenzenlosen Abgründe von SVOID zu offenbaren. Veröffentlicht wurde dieses Manifest in 111 Kopien.
Während SVOID in die Arbeiten an neuem Material vertieft waren, wurden sie von der transylvanischen Plattenschmiede Sun & Moon Records unter Vertrag genommen, um das Debütalbum 'To Never Return' weltweit mit aufrichtigem Label-Support zu veröffentlichen.
'Stürmende Stimmen'
Mit den Eigenschaften und Möglichkeiten der neuen Besetzung begab sich die philosophisch tiefgründig agierende Band 2015 erneut ins Studio um das zweite Album aufzunehmen:
"Storming Voices Of Inner Devotion".
Weltweit veröffentlicht wird das rundum vielversprechende Werk am 18. April 2016 vom alten Bekannten Sun & Moon Records.
Lyric Video zum den neuen Song "Never To Redeem":
MEDIA FEEDBACK zu SVOID "Storming Voices Of Inner Devotion":
8 / 10
"Ultimately, a full and varied album, where the goal is clear … but you are completely unaware of the road to reach it …" (Metalhead.it)
"Black Metal acts often go to great lengths to standout from the pack and no one stands out better than Hungary's mysterious offering, SVOID."  (Metal At The Gates)
"SVOID's newest material is towering high above other inland bands, both in sound and in athosphere … as if we had to wander alone in grey emptiness aimlessly, it would be the background music." (Langolo Gitarok)
"SVOID is on a very good way to make their name even more well-known and to create an individual sound by alloying particular elements of different genres … do not think of some mixed garbage, it's a precisely made product of exactly calculated ingredients … as the band have released Ars Kha (EP 2011) and To Never Return (debut album 2013) they left behind the "usual" Black Metal themes by degrees - and they also use new, more colorful and melodic lines instead." (Rock Station)
SVOID online:
https://www.facebook.com/svoid218