VICIOUS RUMORS kündigen neues Album für 26. August 2016 an und Tourdaten mit DIRKSCHNEIDER bestätigt
Die US Metal Masters VICIOUS RUMORS veröffentlichen heute ein neues Video zum Song "Take It Or Leave It", vom kommenden Studio Album "Concussion Protocol".
Das Video ist hier zu sehen: https://youtu.be/F5updnhm9a4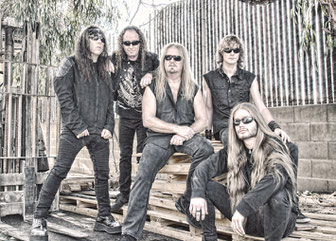 Geoff Thorpe: "The "Concussion Protocol " album has been a the most intense recording project of my long career! We're working together as a team! A year and half of writing, recording and now the release is right around the corner Aug 26th. Nick and Tilen came to California to record and we made the " Take It Or Leave It " video together giving fans a first time look at the making of the album and the power of our performance. Vicious Rumors runs on fire and passion! The reaction from the first video "Chasing The Priest" was so overwhelmingly positive....now check out the members of Vicious Rumors in full force with "Take It Or Leave It"
"Concussion Protocol" erscheint über SPV/Steamhammer am 26. August 2016 als Digipak Version (incl. Poster), 2LP Gatefold Edition (rotes Vinyl) und Download.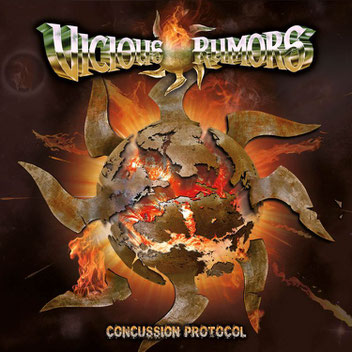 Tracklisting:
01. Concussion Protocol 4:56
02. Chemical Slaves 05:50
03. Victims Of A Digital World 04:13
04. Chasing The Priest 04:13
05. Last Of Our Kind 03:56
06. 1000 Years 03:39
07. Circle Of Secrets 05:04
08. Take It Or Leave It 03:23
09. Bastards 04:40
10. Every Blessing Is A Curse 04:14
11. Life For A Life 06:11
VICIOUS RUMORS sind als Special Guest auf der DIRKSCHNEIDER-Tour bestätigt worden.
Hier die ersten Daten:
07.12.2016 - D - Vacha, Vachwerk
08.12.2016 - A - Dornbirn, Conrad Sohm
11.12.2016 - D - Oberhausen, Turbinenhalle
15.12.2016 - D - Nürnberg, Loewensaal
16.12.2016 - D - Memmingen, Kaminwerk
18.12.2016 - D - Solingen, Cobra (ausverkauft)
Weitere Daten werden demnächst bekannt gegeben!
Weiterhin ist die Band schon für das BANG YOUR HEAD Festival 2017 bestätigt worden!!!
Geoff Thorpe: "As my 2 month promotional tour comes to an end things just kept getting bigger. Over 70 interviews, Bang Your Head confirmed for 2017 and now...Vicious Rumors just confirmed as the special guest for the Dirkschneider European tour! The ball is rolling full speed a head!"
https://www.facebook.com/ViciousRumorsThisIsMetal
---
VICIOUS RUMORS veröffentlichen alle Infos und Teaser zum neuen Album
Mit ihrer neuen Scheibe Concussion Protocol beweisen die Pioniere des Power Metal erneut ihre ungewöhnlich große Innovationsfähigkeit, mit der sie permanent neue Wege und unterschiedliche musikalische Territorien erforschen. Bekannt für ihre grandiose Musikalität und hochenergetischen Liveshows gehören Vicious Rumors vermutlich zu den weltweit vielseitigsten Bands des gesamten Heavy-Metal-Genres.

Ein Teaser ist hier zu sehen: https://www.youtube.com/watch?v=ijPd-NdxSTQ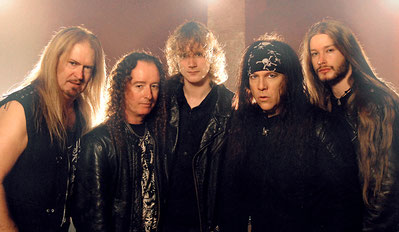 Mit Concussion Protocol  knüpfen Vicious Rumors nicht nur an alte Stärken an, sondern dokumentieren, dass Juan Uteaga (Testamnet) und Band-Kopf Geoff Thorpe ihre zehnjährige Zusammenarbeit als Produktionsteam weiter perfektioniert und optimal auf die neue Besetzung einer revitalisierten Band angepasst haben. Neben dem erfahrenen Gitarristen Geoff Thorpe sowie Schlagzeuger Larry Howe bestehen Vicious Rumors aus dem Neuzugang Nick Holleman am Gesang sowie Tilen Hudrap am Bass und Thaen Rasmussen an der Gitarre . Hinzu kommen Gastauftritte von langjährigen Freunden der Band, namentlich die Gitarristen Steve Smyth und Brad Gillis.

Vom ersten Ton an explodiert Concussion Protocol mit Feuer und einer Leidenschaft, wie man sie nur in einer Metal-Band findet, in der  frischer Wind und die riesige Erfahrung routinierter Songschreiber und Musiker zusammenkommen. Vielschichtiger könnten die neuen Songs kaum sein: Die melodische Kraft von ´Take It Or Leave It`, die Brutalität von ´1000 Years` und das packende ´Circle Of Secrets` schicken den Zuhörer auf eine Achterbahnfahrt mit puren, unverfälschten und erstklassigen Metal-Abenteuern. Diese Stücke beweisen erneut, dass die kreative Inspirationsquelle von Vicious Rumors keine Grenzen kennt, immer basierend auf den gewohnten Tugenden: Hochgeschwindigkeits-Gitarrensoli, melodische und kraftvolle Gesänge, Schlagzeug-Doppelbass-Donner, abgedrehte Bass-Grooves und gut durchdachte Songs, die perfekt zum typischen Sound einer langen Vicious Rumors-Tradition passen. Mit Concussion Protocol erobert die Band souverän sowohl bekannte als auch unbekannte Metal-Territorien.

"Concussion Protocol" erscheint über SPV/Steamhammer am 26. August 2016 als Digipak Version (incl. Poster), 2LP Gatefold Edition (rotes Vinyl) und Download.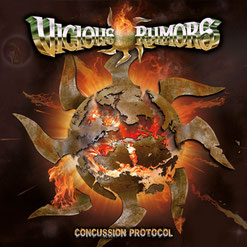 ---
VICIOUS RUMORS verraten erste Details zum neuen Album
VICIOUS RUMORS kündigen neues Album für August 2016 an
Das neue Album der legendären Bay Area Metaller VICIOUS RUMORS wird "Concussion Protocol" heißen und Ende August über SPV / Steamhammer erscheinen.
Die Scheibe beinhaltet 11 brandneue Songs und erzählt die Geschichte des, durch einen Killer-Asteroiden ausgelösten, Weltunterganges und wie der verbliebene Rest der Menschheit, sich Angesichts dieser Katastrophe, auseinander entwickelt. "Concussion Protocol" stellt somit das erste Konzept-Album der Band-Historie dar.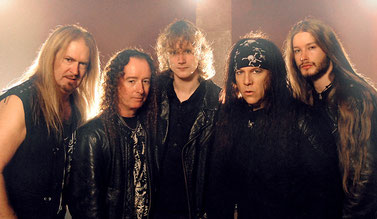 Produziert wurde die Scheibe von Geoff Thorpe und seinem langjährigen Co-Produzenten und Engineer Juan Urteaga in den weltberühmten Trident Studios in Pacheco, Kalifornien, wo schon Größen wie Machine Head, Testament, Heathen, Exodus, Dragonlord oder Ted Nugent aufgenommen haben. Ein Video für die erste Single "Take It Or Leave It" wurde schon produziert und wird in den nächsten Wochen veröffentlicht.
"Concussion Protocol" enthält Gast-Soli von Brad Gillis (Nightranger, Ozzy Osbourne) und Steve Smyth (Nevermore, Testament, Forbidden, VR 1995 – 1999) und Tourpläne sind in Arbeit und werden bald bekannt gegeben!
Geoff Thorpe: "Das Album ist in wahrem VR Stil, unbarmherzig und erdrückend, allerdings mit einer Menge Feinheiten und Wendungen. Ihr könnt Euch auf ein besonderes Erlebnis gefasst machen! Solltet Ihr jemals Fan von VR, Sabbath, Priest oder Maiden, mit einer gesunden Prise Bay Area Thrash abgeschmeckt, gewesen sein, dann ist dieses Album für Euch!!! Alles was Ihr an VR liebt, ist auf der kompletten Album-Länge präsent!!!"
http://www.viciousrumors.com
https://www.facebook.com/ViciousRumorsThisIsMetal
https://www.facebook.com/steamhammerofficial/