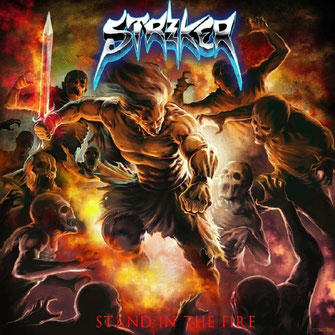 VÖ: 05.02.2016
Label: Saol (H'ART)
Format: CD
Tracklist:
01. Phoenix
02. Out For Blood
03. Too Late
04. Stand In The Fire
05. The Iron Never Lies
06. Escape From Shred City
07. Outlaw
08. Locked In
09. United
10. Better Times
11. One Life
Mit dem vierten Release hauen die kanadier STRIKER wiedermal ein echtes Kraftpaket auf den Markt, das schon fast seines gleichen sucht. Würde man es nicht besser wissen, könnte man meinen Stand In The Fire ist ein lang vergessenes Relikt aus den 80er Jahren. Klassicher Heavy Metal paart sich hier mit Einflüssen aus dem damals so beliebten Hair Metal und man kann auch hier und da ein paar Thrash-Elemente finden. All das kombiniert mit der kräftigen Stimme von Frontmann und Rampensau Dan Cleary macht aus diesem Release ein absolutes Muss für jeden Metalfan! Wer die Band bei einem ihrer kürzlichen Auftritte als Support von Primal Fear gesehen hat, konnte sich bereits hier schon von der Energie der jungen Band überzeugen.
Und genauso energiegeladen wie ihre Bühnenpräsenz gibt sich auch das Album Stand In The Fire. Alleine deswegen verdient der Silberling schon eine Review (besser spät als nie!).
Und so euphorisch wie diese ersten Zeilen geschrieben sind, wird der Hörer schon bei den ersten Noten des einleitenden Tracks Phoenix. Wer hier noch die Beine still halten kann, dem ist auch nicht mehr zu helfen. Geniale Gitarrenparts reihen sich hier aneinander und werden nur noch von der ausdrucksstarken Stimme getoppt - wie bereits erwähnt. In die ersten zehn Tracks verirrt sich auch nicht eine einzige Ballade, oder auch nur der Hauch eines ruhigen Songs. Jedem bekannten, batteriebetriebenem Häschen wäre auf der Hälfte der Trackliste wohl schon längt die Puste ausgegangen. Einzig der letzte Song des Albums, One Life, geht so in die Richtung Ballade. Wobei auch hier gegen Ende wieder deutlich wird, wie viel Energie diese Band hat und das eben diese Energie unbedingt raus muss!
Aufgenommen wurde Stand In The Fire in Gänze zuhause (also so wirklich zuhause!) im heimischen Edmonton mit der Unterstützung von Randy Black und Mixer Frederik Nordstrom (Bring Me The Horizon, In Flames, Opeth).
Da die letzte Tour "nur" eine Supporttour war, bleibt nur zu hoffen, dass man STRIKER bald auf Headlining Tour zu sehen bekommt. Die Power ist da und verdient haben es die Jungs aus Kanada alle mal. Also bitte: supporten, Album kaufen und Konzerte besuchen! Headbanger werden definitv nicht enttäuscht!
(Sarah Jacob)
Lineup:
Dan Cleary - Lead Vocals
Tim Brown- Lead/Rhythm Guitar
Adam Brown - Drums
William Wallace - Bass