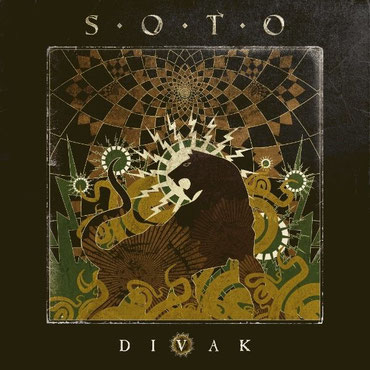 VÖ: 01.04.2016
Label: earMusic / Edel
Format: CD
Tracklist:
01. Divak
02. Wight Of The World
03. Feakshow
04. Paranoia
05. Unblame
06. Cyber Masquerade
07. In My Darkest Hour
08. Forgotten
09. Suckerpunch
10. Time
11. Misfired
12. The Fall From Grace
13. Awakened
Wer Jeff Scott Soto ausschliesslich von seinem Mitmischen beim Trans-Siberian Orchestra kennt, sollte hier direkt wieder aufhören zu lesen und sich anderen Dingen widmen. Denn, sind seine Parts bei TSO meist eher gefühlvoll und ruhig, so haut er bei DIVAK richtig rein. Und auch wenn der Releasetermin der 01.04. ist, so ist dieses Album definitiv kein Aprilscherz! Schon 15 Monate nach Release des Debütalbums will es die Band der Musikwelt wieder richtig zeigen und bring ein echt starkes Werk auf den Markt.
Track 1 ist direkt der Titeltrack, aber entgegen der Gewohnheit hier meist das ausdrucksstärkste Momentum eines Albums vorzufinden, entschied man sich in den Soto-Reihen dazu, einfach nur ein Intro daraus zu machen. Es beginnt leise und harmlos und nimmt zum Ende richtig an Fahrt auf um direkt an den folgenden Song Weight Of The World anzuküpfen. Hier hört man auch direkt die Power raus, die das Album durchgehend ausmacht.
Mit kräftiger Stimme gibt JSS seinen Texten ausdruck und zieht einen sofort in den Bann. Schon an Anfang bekommt man das Gefühl, dass es sich um ein richtig starkes Album handelt, das man so schnell nicht wieder ins Regal stellen möchte. Bis zum sechsten Titel Cyber Masquerade, in der die Band die künstliche Welt der Schönen und Reichen, sowie die Annonymität anprangert, kommen wir bei In My Darkest Hour zur ersten Ballade auf Divak. Insgesamt bietet der Langspieler guten klassichen Heavy Metal, bei dem man auch von der CD aus hören kann, wieviel Spass die Band bei der Musik hat. Gute Gitarrenriffs und sehr gut passende Lyrics, vereint mit der restlichen Musik bringt die Köpfe zum wackeln.
Bei der digitalen Albumversion gibt es noch fünf Livetracks als Bonus und über iTunes bekommt man auch nochmal zwei weitere oben drauf. Und wem das nun immer noch nicht reicht, der sollte sich schleunigst Tickets besorgen, denn Soto sind mit diesem Hammeralbum im April auch gleich bei uns auf Tour!
Produziert hat hier, wie auch schon beim Vorgänger Album, Jeff Scott Soto selbst mit Drummer Edu Cominato. Gemischt wurde Divak von Tontechniker John Ellis.
(Sarah Jacob)
Lineup:
Jeff Scott Soto - Vocals
Drums - Edu Cominato
Jorge Salan - Leadguitar
David Z - Bass
BJ - Keaboard/Guitar