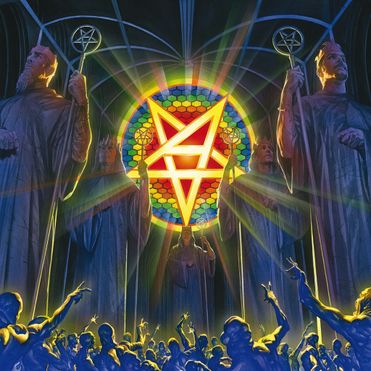 VÖ: 26.02.2016
Label: Nuclear Blast
Format: CD
Tracklist:
01. Impaled (1:31)
02. You Gotta Believe (6:00)
03. Monster At The End (3:55)
04. For All Kings (5:00)
05. Breathing Lightning (5:37)
06. Breathing Out (0:55)
07. Suzerain (4:53)
08. Evil Twin (4:40)
09. Blood Eagle Wings (7:53)
10. Defend Avenge (5:13)
11. All Of Them Thieves (5:14)
12. This Battle Chose Us (4:53)
13. Zero Tolerance (3:48)
Wenn man sich die Geschichte von ANTHRAX so betrachtet, stellt man ja schnell fest, dass es, wie bei fast allen, die nun bereits seit über 30 Jahren Musik machen, sehr viele Höhen und Tiefen gab. Nicht zuletzt durch die Zusammenkunft der Big Four (Anthrax, Megadeth, Metallica und Slayer) und die Nennung des eigenen Bandnamens in einer Reihe mit eben diesen anderen, sollte wohl Ansporn genug gewesen sein, um weiterhin erstklassige Alben zu schreiben. So nun auch mit dem neusten Werk For All Kings!
Im Gegensatz zu viele Bands die mit dem Alter oft in die kommerziellere, mainstreamigere Schiene wechseln, merkt man bei ANTHRAX noch immer das Herzblut und die Leidenschaft für die Musik. Als das Album noch keinen klaren Titel im Arbeitsprozess hatte, sagte Charlie Benante dazu: "A king to me doesn't mean King Henry the Eighth. My dad passed away when I was five years old, I never really had that dad relationship so I looked elsewhere for role model and inspirations. KISS was a big thing for me, they were like kings to me. And that's who this record is dedicated to - those people, maybe they're sports figures, family members - the people that are big in your life."
Über die komplette Trackliste hinweg merkt man, wie viele Gedanken sich die Band um die Lyrics macht. Das Ergebnis davon ist ein Album, das so erhaben und wild wie klassisch ist. Vom brillianten Opener You Gotta Believe, über Breathing Lightling über das sieben minütige Meisterwerk Blood Eagle Wings. For All Kings ist der lebende Beweis, dass man eine gute Band nicht vernachlässigen darf. Harte Gitarrenriffs reihen sich aneinander und bilden eine nicht aufzuhaltende Walze der Metalgewalt, die einen auch durch die Lyrics und den Subtext dazu bringt, mehr über die Welt und das Geschehen in ihr nachzudenken.
Für mich eine sehr starke Scheibe, die man sich getrost anschaffen kann.
(Sarah Jacob)