"Book Of Ogan" Tour 2016 – Power-Metal-Senkrechtstarter gehen erstmalig auf Headlinertour
Mit ihrem dritten Album "To The End" haben die Powermetaler Orden Ogan aus dem Sauerland endlich den ersehnten Durchbruch in der Szene geschafft und ihr Potential mit einem hohen Einstieg in die Charts gezeigt. Nach frühen Einflüssen aus dem Folk-Metal und personellen Umbesetzungen haben sich die Herren Sebastian Leeb (Gesang), Tobias Kersting (Gitarre), Niels Löffler (Bass) und Dirk Meyer-Bernhorn (Drums) im Bereich Powermetal erfolgreich etabliert und werden schon mit Genregrößen wie Blind Guardian und Helloween verglichen.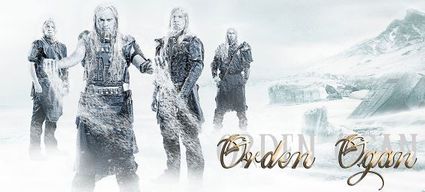 Der aktuelle Albumnachfolger "Ravenhead" aus dem Frühjahr 2015 schlug in der Szene ein und hielt sich vier Wochen auf Platz 16 der Charts. Er stellt das bisher beeindruckendste Werk der Truppe dar und verbindet den klassischen Sound des Powermetal mit kernigen, akutellen Klängen des Genres. Die Weiterentwicklung und Reife von Orden Ogan werden gerade beim Songwriting sichtbar: "Ravenheart" ist das zugänglichste und kraftvollste Album bisher und lässt erkennen, dass die Band das gewisse Etwas hat, das man braucht, um als Metalband erfolgreich zu sein. Der Song "We Are Pirates!" schaffte es sogar in den Trailer der Formel 1 bei RTL, was bestimmt auch nicht vielen gelingt.

Die DVD "Book Of Ogan", die für 2016 angekündigt ist, wird die Spielfreude der Westfalen sicher weiter untermauern, auch wenn deren Inhalt noch streng geheim ist.
Almanac, die neue Band um den Gitarrenvirtuosen Victor Smolski (ex-RAGE), wird als Very Special Guest die gesamte Tour mitfahren und veröffentlicht passend zum Tourstart am 18.03. ihr Debut-Album "Tsar", auf dem sich neben Victor auch die beiden Sänger David Readman (Pink Cream 69, Voodoo Circle) und Andy B. Franck (Brainstorm) in Höchstform zeigen. Abgerundet wird das Package durch die neue Schwedische Powermetal Hoffnung "Manimal".
Orden Ogan
special guests: Almanac & Manimal

Termin: Montag, 28. März 2016
Beginn: 20:00 Uhr
Einlass: 19:00 Uhr
Location: Colos-Saal
Tickets: VVK 21,90 €, AK 23,- €
http://colos-saal.de/komplettes-programm/details/product/orden-ogan.html