Brutal intensive Vollbedienung!
Das verdammt spielstarke Braunschweiger THRASH METAL-Kommando OUR SOULS wurde 1996 gegründet.
Mit den beeindruckend brachialen Songs des 2015 veröffentlichten Albumkillers "The Beast Within" meisterte die Band den Spagat zwischen der alten Schule des Genres und groovigen Elementen in aller Standfestigkeit. Der neue Sänger Berny bringt den mordsfrischen Elan der Jungs seit diesem dritten Langspieler noch besser zur Geltung.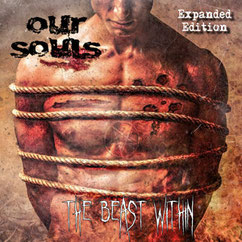 Die Basis dieses tonnenschweren Wutklumpens ist und bleibt dabei der traditionelle THRASH METAL. Und das Ganze wird von den gigantisch grollenden Urhebern packend groovend bis eingängig geschmettert oder mit verwüstenden Midtempo-Orgien in Szene gesetzt.
Aber OUR SOULS schleudern einem auch ungemein fiese Elemente aus dem HARDCORE oder dem traditionellen METAL in die staunende Fresse.
Das schonungslose CD-Cover wurde von Tobias 'Bloodboy' Huber angefertigt, der bereits für etablierte Größen wie HEAVEN SHALL BURN, DYING FETUS und HAIL OF BULLETS arbeitete.
Und für das pfundige Mastering zeichnet Jürgen Lusky von den Hofa Studios verantwortlich, wo auch schon bekannte Acts wie UNISONIC, AXXIS und THE RAZORBLADES optimal bedient worden sind.