Die Thrash-Metal-Ikonen AFTER ALL haben nun das Cover ihres kommenden Albums »Waves Of Annihilation« veröffentlicht. Das beeindruckende Artwork wurde vom renommierten Künstler Ed Repka (MEGADETH, DEATH, MUNICIPAL WASTE) erstellt.
Die Band sagt dazu:
"Here it is, friends and fiends of After All: the amazing cover art for our new album 'Waves Of Annihilation. When it comes to thrash metal artwork, the undisputed number one is Mr. Edward J. Repka. So why settle for anything less?
This is the third consecutive After All release for which Ed provided the cover artwork. And yes, he definitely seems to have outdone himself once more. Classic yet timeless art, in all its fine detail and glory. We are excited to say the least.
The artwork completes the story that started on the cover of the 'Rejection Overruled' EP. On the new album, we witness the last survivors of mankind taking off in a spacecraft, leaving the earth to savage hordes of mutant zombies. We can't wait to see this printed on a gatefold LP sleeve!"

'Waves Of Annihilation' ist das bereits neunte Studioalbum der Band. Wie die beiden Vorgänger wurde auch das neue Album von Dan Swanö produziert.

'Waves Of Annihilation' wird am 10. Juni via NoiseArt Records veröffentlicht.

Websites
www.afterall.be
www.facebook.de/afterallmetal
---
AFTER ALL unterschreiben bei NoiseArt Records
NoiseArt Records ist stolz, das Signing Thrash-Metal-Ikonen AFTER ALL verkünden zu können, dem Flagschi der belgischen Metalszene. Touren mit Legenden wie ANTHRAX, KING DIAMOND, SACRED REICH, FEAR FACTORY und sogar eine Show im Vorprogramm von JUDAS PRIEST sind Zeugnis der außergewöhnlich erfolgreichen Karriere der Band.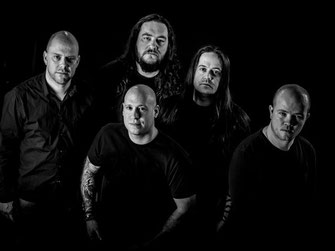 Das neue Album »Waves Of Annihilation« wird am 10. Juni 2016 erscheinen und ballert dann auch gekonnt aus allen Rohren. Es bedient alle Trademarks, die AFTER ALL Zeit ihrer Existenz zu einer unvergleichlichen Thrash-Ikone gemacht haben. Unfassbar leidenschaftliche Energie prallt auf überragendes, durchdachtes Songwriting. Die Gitarristen Dries Van Damme und Christophe Depree liefern sich neben diversen Riff-Gemetzeln der Extraklasse immer wieder atemberaubende Saitenduelle, die Thrash-Liebhabern Tränen der Freude in die Augen treiben werden. Sänger Sammy Peleman glänzt einmal mehr mit seiner unverwechselbaren und hochgradig abwechslungsreichen Stimme – die vor allem in den klar gesungenen Refrains für Gänsehaut behaftete Höhepunkte sorgt.

Die Band sagt dazu: "Dear metal maniacs, we are both proud and stoked to announce that After All have signed a 3 album deal with NoiseArt Records. 
The new album 'Waves Of Annihilation' is mixed, mastered and ready to be unleashed. In our humble opinion, the album contains some of the heaviest, fastest and most versatile stuff we have ever recorded. Prepare to be surprised… and floored!"

'Waves Of Annihilation' ist das bereits neunte Studioalbum der Band. Wie die beiden Vorgänger wurde auch das neue Album von Dan Swanö produziert. Das noch unveröffentlichte Cover-Artwork wurde vom legendären Ed Repka erstellt.

Mehr Informationen gibt es in Kürze - seid gespannt!

Websites
www.afterall.be
www.facebook.de/afterallmetal