Heute beginnt ein neues Kapitel in der Geschichte des österreichischen Labels Napalm Records – es ist offiziell! Der Vertrag mit den legendären HammerFall ist besiegelt und unterschrieben! HammerFall – die Retter des Heavy Metal und eine der einflussreichsten und besten Metal Bands der Welt segeln nun unter der Flagge des Doppelkopf-Adlers! Die weltweit gefeierte Band ist seit zwei Jahrzenten ein Garant für hochkarätigen Metal und schweißtreibende Liveshows – und gilt seit ihren Anfängen 1993 als unbestrittener Meister bahnbrechender Hymnen. Spannenderweise führt der Weg für  HammerFall nach wie vor stetig nach oben, die Band ist hungrig nach mehr – und hat nun einen Labelpartner an ihrer Seite, der alles dafür tun wird um sicherzustellen, dass dies auch gelingt. Diese Zusammenarbeit wird die Musikwelt erobern!

Seit Jahren beweisen HammerFall, dass sie eine Ausnahmeerscheinung sind – neben der Leidenschaft und Hingabe für ihre Sache waren sie schon immer sehr fleißige, aber allem voran bodenständige Menschen, die ihre Fans mit ihrer Musik inspirieren.  Selten kann eine etablierte Band ihren Status über einen so langen Zeitraum halten und weiter ausbauen. Dies ist einer der vielen Gründe dafür, dass Napalm Records so stolz und geehrt ist, die Zusammenarbeit mit HammerFall verkünden zu dürfen! Diese Partnerschaft ist nicht nur eine der aufregendsten und hochkarätigsten Signings für Napalm Records bis dato, sondern auch ein wichtiger Schritt für die Band, da es hier um das bedeutungsvolle 10. Studioalbum (und mehr) geht. Napalm Records plant eine umfangreiche, weltweite Kampagne für das kommende Meisterwerk, das am 4. November 2016 erscheinen und offene Münder in allen Ecken des Globus zurücklassen wird. HammerFall & Napalm Records werden 2016 zusammen Geschichte schreiben!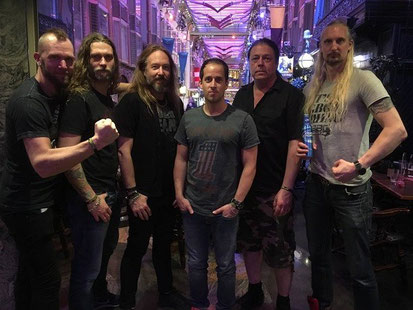 Joacim Cans, HammerFall Sänger: "After two exciting decades in the line of metal duty  I feel that signing with Napalm Records is the necessary step we need to take in order to grow as a band and reach the next level.
Even-though we've been around for such a long time we are still hungry and craving for more. There are still territories left to conquer and metal hymns left to write.
In the past Napalm has proven to be a very strong and reliable label with great success and chart entries with bands like W.A.S.P., Monster Magnet, Kamelot and Powerwolf."

Oscar Dronjak, HammerFall Gitarrist: "HammerFall has been very successful and happy with Nuclear Blast for almost 20 years, but in order for us to continue to grow as a band and reach new heights we needed a fresh challenge. This felt like a right and necessary step at this point in our careers, in order to keep moving forward and upward at a high speed. We view this label change as an opportunity to create something special, and firmly believe our best times are still ahead of us. That's why we're very, very excited to work with the people at Napalm Records for our upcoming, 10th studio album!"
 
Thomas Caser, Geschäftsführer von Napalm Records: "The signing of this extraordinary band is the major milestone for Napalm Records. HammerFall's signing unlocks a lifetime achievement for all of us at Napalm Records, but also for me personally as well!  We put all of our efforts into making this happen as a team, as we believe HammerFall are one of the Greatest Heavy Metal Bands of All Time, and this is just the start of a huge world-wide campaign.  Fans can feel rest assured that we will spare no efforts to make HammerFall bigger than they have ever been!"