Freakshow der Sonderklasse!
Konnten SCARLET ANGER mit dem 2012 veröffentlichten Debütalbum "Dark Reign" schon auf breiter Ebene prächtig abräumen, so türmt sich die THRASH METAL-Band um Vokalist Joe Block nun zu wahrlich imposanter Größe auf!
Obwohl zuvor schon gleichfalls dynamisch effizient wie kompositorisch überlegen, konnte sich der enorm rhythmus-starke Luxemburger Verband in vielerlei Belangen nochmals steigern.
Und so dermaßen eigenständig, reich an Identität und intuitiv vorgehend, wie es SCARLET ANGER auf "Freak Show" tun, präsentieren sich nur sehr wenige Vertreter der Thrash-Zunft.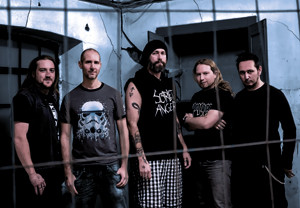 Das enorm facettenreiche Songwriting für das neue Album "Freak Show" wurde bewusst noch eingängiger, düsterer und diesmal sogar geheimnisvoll gestaltet. Und das erlaubt viel Platz für einzigartige, spannend-aufreibende Atmosphären und Stimmungen.
Der Luxemburger Hochdruck-Fünfer lässt 10 melodisch raffiniert akzentuierte Song-Granaten zünden, die allesamt nachhaltig unter die Haut gehen können.
Auch klanglich bewegen sich die erneut extrem spielfreudigen Jungs auf hohem Terrain, da JENS BOGREN in den bekannten Fascination Street Studios mit aller Kompetenz das Mastering übernahm.

Damit kann das beständige Quintett nun zum ganz großen Schlag ausholen!
FACTS:
• SCARLET ANGER ist eine luxemburgische THRASH METAL-Band, die 2007 von Sänger Joe Block und Gitarrist Fred Molitor gegründet wurde. Den ersten Auftritten folgt schnell eine EP mit dem Titel "La Realidad Es Triste...".
• International wahrgenommen werden SCARLET ANGER schließlich mit der Veröffentlichung der zweiten EP "Kill The King" im Jahr 2011.
• Mit seiner schnelleren und aggressiveren Ausrichtung heimst "Kill The King" nicht nur hervorragende Reaktionen in der Fachpresse ein, sondern erregt auch das Interesse des Labels Dust On The Tracks Records.
Ein weltweiter Plattenvertrag für das erste Album "Dark Reign", gemastert von Genre-Legende JEFF WATERS (ANNIHILATOR), öffnet SCARLET ANGER schließlich die Pforten, um live ein größeres Publikum zu erreichen.
• Nach der Veröffentlichung des Albums im Mai 2012 folgen zahlreiche Auftritte bei kleinen und etablierten Festivals wie dem Durbuy Rock Festival und dem Extremefest.
• Während SCARLET ANGER vor allem international die Bühnen unsicher machen, entstehen auch erste Ideen zum Nachfolger von "Dark Reign".
Comics und Horrorgeschichten im Stil der Achtziger und Neunziger halten als Inspiration her, und mit "Freak Show" ist auch schnell ein passender Titel für das zweite Album gefunden.
• Veröffentlicht wird "Freak Show" am 18. März 2016 über Hänsel & Gretel / MIG Music.
MEDIA FEEDBACK zu SCARLET ANGER "Freak Show":
9,5 / 10
"… wer echte Liebe will, muss Nähe und Tiefe zulassen … Aggression und Melodie, Schnelligkeit und Groove, Old School und Moderne … schon jetzt eines der Highlights des noch jungen Jahres."
(Obliveon)
SCARLET ANGER online:
https://www.facebook.com/ScarletAngerBand