Erster Song online, Frontcover enthüllt, pre-order gelauncht!

Die deutschen Black Thrasher DESASTER haben ihr neues Album "The Oath Of An Iron Ritual" für den 8 April angekündigt!

Hört euch jetzt den ersten Song "Damnatio Ad Bestias" auf metalblade.com/desaster an, schaut euch das Frontcover an und klickt den Pre-Order Button. "The Oath Of An Iron Ritual" erscheint als limitierte Digi-CD sowie auf allen digital Outlets.

Das achte Studio-Album "The Oath f An Iron Ritual" bescheinigt wieder einmal die Kompromisslosigkeit, welche DESASTER seit eh und je zelebrieren. Aufgenommen wurde dieses mal unter der Regie von Patrick W. Engel im bandeigenen Proberaum in wenigen Tagen im Oktober, was dem Sound aber in keinster Weise geschadet hat. Ganz im Gegenteil! Aber hört selbst!

Freut euch mit dem neuen DESASTER Album am 8. April auf eine kompromisslose Metal-Breitseite, die jeden Schädel mit Leichtigkeit zerbersten lässt. Macht euch bereit für schneidende Riffs, treibende Drums, einen röhrenden Bass und höllische Schreie!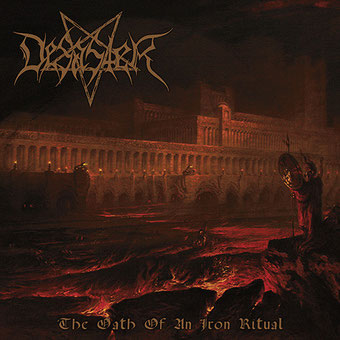 "The Oath Of An Iron Ritual" Tracklist:
01. Intro (The Oath)
02. Proclamation in Shadows
03. End of Tyranny
04. The Cleric's Arcanum
05. Haunting Siren
06. Damnatio Ad Bestias
07. Conquer & Contaminate
08. The Denial
09. The Oath of an Iron Ritual
10. At the Eclipse of Blades

DESASTER:
Infernal - guitar
Sataniac - vocals
Tormentor - drums
Odin - bass

http://www.total-desaster.com
http://www.facebook.com/666Desaster666