Erste Single "Ocypuss" online - mit Lamb Of Gods Randy Blythe sowie Corrosion of Conformitys Mike Dean und Reed Mullin!

Seit mehr als zwei Jahrzehnten halt Frontmann T-Roy das Piratenschiff SOURVEIN auf Kurs, und zwar allein durch schiere Willenskraft! Ob finanzieller Notstand, Verlust von Freunden und Verwandten, schwere Depressionen, phasenweise starker Alkoholmissbrauch oder Verzicht auf die Sicherheiten, die ein beständiges Label bietet: T-Roy hat die Band allen Widrigkeiten zum Trotz zu einer hochgeachteten Macht im Underground für Doom, Sludge, Crust und Metal generell aufgebaut.
Nach nun über 20 Jahren haben SOURVEIN endlich ein Zuhause für ihren Doom-geladenen Southern Metal gefunden, nämlich Metal Blade Records. Ihr nächstes Album und Label-Debüt 'Aquatic Occult' wird am 8. April erscheinen.

Vorbestellt werden kann es ab heute auf metalblade.com/sourvein. Dort könnt ihr auch den dritten Song streamen, 'Ocypuss'. Dieser bringt Gastauftritte von Sänger und Bandintimus Randy Blythe von Lamb of God sowie Mike Dean (Bass) und Reed Mullin (Drums, beide Corrosion of Conformity) zu Gehör.

Neben from Blythe, Dean und Mullin, geben sich Stig Miller (Amebix), Keith Kirkum (ex-Weedeater), Dean Berry (Iron Monkey), Dave Capps (All Tore Up), Chris Holcombe und Joel Martin (Subrig Destroyer) sowie Kevin Rochelle (Sea of Tyrants) die Klinke in die Hand. Reed Mullin trommelt auf zehn der vierzehn Songs.

'Aquatic Occult' wurde von Mike Dean produziert und von Brad Boatright (Sleep, Yob) gemastert.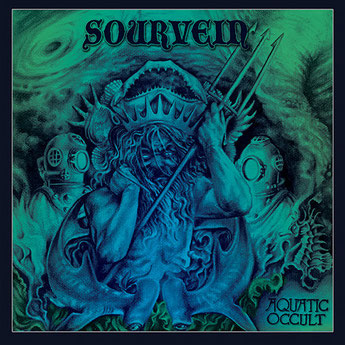 'Aquatic Occult' Trackliste:
*Reed Mullin am Schlagzeug
01. Tempest (Of Desire) (feat. Stig Miller)*
02. Avian Dawn*
03. Ocypuss (feat. Randy Blythe, Mike Dean)*
04. Aquanaut (feat. Dean Berry)
05. Hymn to Poseidon*
06. Mermaids*
07. Urchins
08. In the Wind*
09. Cape Fearian*
10. Capsized (feat. Dave Capps)*
11. High Tide
12. Bermuda Sundown (feat. Keith Kirkum)
13. Coral Bones*
14. Oceanic Procession (feat. Stig Miller, Randy Blythe an der Orgel)*

"'Aquatic Occult' wird heavier als ein Zweitonnenanker, den man in eine Porzellanwanne fallenlässt - dabei geht einiges zu Bruch", so Gastsänger Randy Blythe. "Dieses Album zeigt Sourvein so musikalisch und fokussiert wie nie."

"Endlich, Mann, hat sich meine jahrelange Arbeit ausgezahlt", sagt T-Roy rückblickend auf den langen, anstrengenden Trip, der ihn zu Metal Blade führte. "'Aquatic Occult' bringt die Wahrheit ans Licht. Die Texte spiegeln meine Wirklichkeit wider; Ich schreibe nicht übre Autos, Bräute oder Horrorfilme, sondern über Opfer und Kampf - alles, was ich in meiner Jugend erlebte und immer noch sehe. Dennoch will ich positiv bleiben und die Menschen wissen lassen, dass es einen Ausweg gibt, wenn es schlecht läuft und hart auf hart kommt."

Rechnet mit mehr Infos, Songs und weiteren Exklusivhappen von SOURVEIN!

SOURVEIN sind:
T-Roy - Vocals/Gitarre
Lou Gorra - Bass
Dig - Drums

https://www.facebook.com/SOURVEIN-238932972468


---