ACE FREHLEY GIBT DIE VERÖFFENTLICHUNG DES COVER ALBUMS ORIGINS VOL. 1 BEKANNT
"WHITE ROOM" ALS ERSTE SINGLE AB MORGEN 12.02. ERHÄLTLICH
PAUL STANLY SINGT "FIRE AND WATER" (FREE)
DIE ERSTE GEMEINSAME AUFNAHME VON ACE UND PAUL NACH 18 JAHREN!
DAS ALL STAR LINE UP UND TRACKLISTING WERDEN BEKANNT GEGEBEN
DAS ALBUM ERSCHEINT AM 15. APRIL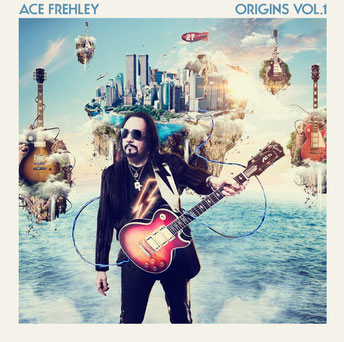 Rock and Roll Hall of Fame Mitglied ACE FREHLEY gibt die Veröffentlichung von Origins Vol. 1 bekannt, welches eine Sammlung von 12 neu aufgenommenen Klassikern aus der prägenden Zeit von ACE beinhaltet. Das Album erscheint am 15. April über SPV/Steamhammer als DigiPak, 2LP Version und Download.

Die Scheibe wurde von einigen Gaststars mit eingespielt, wobei sicherlich die Kollaboration zwischen ACE und KISS Frontmann PAUL STANLEY am meisten Aufmerksamkeit erregen wird. Mit vereinten Kräften zocken die beiden eine Version von Free´s "Fire and Water". Seit dem Release des 1998 veröffentlichten KISS Reunion Albums Psycho Circus, stellt dies die erste gemeinsame Arbeit der beiden Künstler dar.

Weitere Gaststars auf dem Album sind Slash, der die Leads zum Thin Lizzy Klassiker "Emerald" eingespielt hat. Auch Lita Ford hat ein Solo eingezockt und zwar zum Troogs Hit "Wild Thing", zu dem Sie ebenfalls Vocals beisteuerte. Zusammen mit Rob Zombie Gitarrist John 5 intoniert ACE den Hendrix Klassiker "Spanish Castle Magic" sowie den, von ACE komponierten KISS All Time Fave "Parasite", den er hier auch das erste Mal selbst singt. Pearl Jams Mike McCready veredelt die Gitarren-Spuren der FREHLEY Komposition "Cold Gin", die ebenfalls das erste Mal von ACE persönlich eingesungen wurde.

ACE wird 2016 auf eine ausgedehnte Tour gehen, bei der er von Richie Scarlet (Rhythmus Gitarre und Vocals), Chris Wyse von The Cult (Bass und Vocals) und Scott Coogan von Nikki Sixx´s Brides of Destruction (Drums) unterstützt wird.

Origins Vol. 1 ist der Nachfolger des 2014 veröffentlichten Space Invader, welches in ganz Europa in die Charts stürmte. Space Invader wurde von Kritikern allerorts hervorragend aufgenommen. Der Rolling Stone schrieb damals: "Gene Simmons behauptete, das ACE es nicht verdienen würde, Kiss Kabuki Clown Make Up zu tragen, doch Space Invader belegt das Gegenteil!" Die Associated Press jubelte: "Der Original Kiss Gitarrist veröffentlicht hier sein bestes Solo Album, seit dem Bahnbrechenden Solo-Debüt aus dem Jahre 1978!"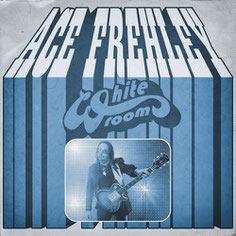 Tracklisting:
01. White Room
(original by Cream)
5:04
02. Street Fighting Man (original by The Rolling Stones) 4:00
03. Spanish Castle Magic (original by Jimi Hendrix, feat. John 5) 3:34
04. Fire and Water (original by Free, feat. Paul Stanley) 4:11
05. Emerald (original by Thin Lizzy, feat. Slash), 4:28
06. Bring It On Home (original by Led Zeppelin) 4:25
07. Wild Thing (original by The Troggs, feat. Lita Ford) 3:44
08. Parasite (Kiss, feat. John 5) 4:04
09. Magic Carpet Ride (original by Steppenwolf) 3:43
10. Cold Gin (Kiss, feat. Mike McCreedy) 5:17
11. Till The End Of The Day (original by The Kinks) 2:26
12. Rock N Roll Hell (Kiss) 6:32
Der Song "White Room" erscheint als erste Single und ist ab morgen 12.02. auf allen digitalen Plattformen zu erhalten.
Der Song ist auf der US-ROLLING STONE Homepage schon zu hören: http://www.rollingstone.com/music/news/ace-frehley-announces-new-lp-white-room-cover-paul-stanley-reunion-20160210
http://www.acefrehley.com/
https://www.facebook.com/officialacefrehley
https://www.facebook.com/steamhammerofficial/