Es ist kein Aprilscherz, auch wenn das Veröffentlichungsdatum (01.04.) des neuen THUNDERSTONE Albums etwas Gegenteiliges erwarten lässt: Die finnischen Power Metaller melden sich wiedererstarkt auf der internationalen Bühne zurück. Und nicht nur legt man mit "Apocalypse Again" ein Album vor, das qualitativ wie stilistisch nahtlos an die ersten drei Werke der Truppe anschließt - es markiert auch die Rückkehr von Ur-Sänger Pasi Rantanen, dessen charakteristisches Organ großen Anteil am Erfolg THUNDERSTONEs hatte.
"Apocalypse Again" ist melodischer Metal in Perfektion. Vom pfeilschnellen Einstieg "Veterans Of The Apocalypse", über die eingängige Single "The Path", bis hin zum epischen Abschluss mit "Barren Land" wird deutlich, dass THUNDERSTONE zum Besten gehören, was die Szene zu bieten hat - und wie sehr Rantanen der Band gefehlt hat. Welcome back!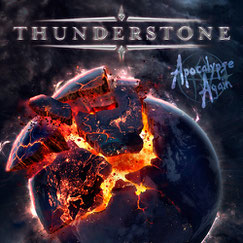 "Apocalypse Again" Tracklist:
01. Veterans Of The Apocalypse
02. The Path
03. Fire And Ice
04. Through The Pain
05. Walk Away Free
06. Higher
07. Wounds
08. Days Of Our Lives
09. Barren Land
Die Erstauflage wird als Digipak erhältlich sein.