SOTO VERÖFFENTLICHEN IHR ZWEITES STUDIOALBUM 'DIVAK'AM 1. APRIL 2016 BEI earMUSIC
SOTO, mit Leadsänger Jeff Scott Soto, stehen mit ihrem zweiten Studioalbum in den Startlöchern, das am 01. April 2016 bei earMUSIC veröffentlicht wird.
'DIVAK' (ausgesprochen dee-vock) erscheint nur etwa 15 Monate nach der Veröffentlichung ihres Debüts 'Inside The Vertigo' (VÖ: Januar 2015). Zu verantworten hat das ganz klar Jeff Scott Soto selbst, der nach 'Inside The Vertigo' darauf drängte, direkt weiterzumachen, um dieses neue Projekt als Marke zu etablieren.
Auch dieses Mal wurde das Album wieder von Jeff Scott Soto und Schlagzeuger Edu Cominato produziert; gemischt wurde es von Jeffs langjährigem Tontechniker und Partner John Ellis.  
Die Band besteht aus Sänger Jeff Scott Soto, aus Cominato am Schlagzeug, Lead Gitarrist Jorge Salan, Bassist David Z und Keyboarder/Gitarrist BJ. Alle Musiker waren auch am Schreibprozess von 'DIVAK' stark involviert.

Die erste Single-Auskopplung "FreakShow" wurde von Tony Dickinson, der sich bereits für die erste Singleauskopplung von 'Inside The Vertigo' verantwortlich zeichnete, mitgeschrieben und co-produziert. "FreakShow" ist eine klare Weiterführung des markanten und typischen SOTO-Sounds, der extra für diese Band geschaffen wurde.

SOTO legen im Februar 2016 mit einer Reihe Tourdaten an der US Ostküste vor; an der Seite von Steve Vai, Extreme, Queensryche und weiteren unzähligen Headlinern findet die US Tour in der alljährlichen Monsters Of Rock Cruise (Ostküste) ihren Höhepunkt. Im April begibt sich die Band dann endlich nach Europa, wo sie in ausgewählten Ländern und Städten ihr Europa-Live-Debüt feiern werden. Im Mai touren SOTO durch Südamerika, inklusive einiger Termine als Support für The Winery Dogs.
SOTO, gegründet im Jahr 2014, ist Jeffs Herzensangelegenheit und entstand als Jeff Scott Soto realisierte, wie sehr er die 'heavier side' seiner Karriere vermisste, nachdem er u.a. Frontmann für Bands wie Yngwie Malmsteen, Talisman, Journey und seine eigenen Soloprojekte war.
Die Band arbeitet weiter hart daran, sich in der aktuellen Hard Rock & Metal Szene einen festen Platz zu sichern und dieses Mal so richtig aufzumischen.

'DIVAK' erscheint am 1. April 2016 als CD Digi und Download.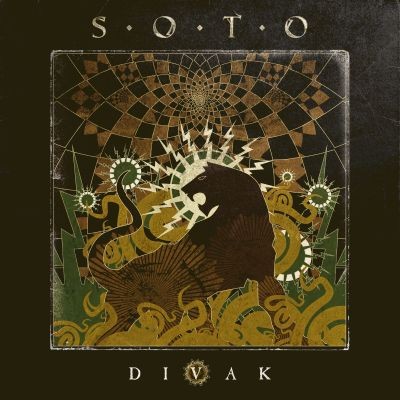 Tracklist:
01. DIVAK (Intro)
02. Weight Of The World
03. FreakShow
04. Paranoia
05. Unblame
06. Cyber Masquerade
07. In My Darkest Hour
08. Forgotten
09. SuckerPunch
10. Time
11. Misfired
12. The Fall From Grace
13. Awakened
Bonus Tracks (all digital retailers)
14. Final Say (live)
15. The Fall (live)
16. Break (live)
17. When I'm Older (live)
18. Stand Up (live)
Additional Bonus Tracks itunes/apple music
19. My Life
20. Cracking The Stone
SOTO - Europa Tour Dates:
01.04.2016 - E - Barcelona, Razzmatazz 3
02.04.2016 - E - Madrid, Catz
03.04.2016 - P - Lissabon, RCA Club
05.04.2016 - E - Zaragoza, Sala Lopez
07.04.2016 - CH - Wetzikon, Hall of Fame
08.04.2016 - D  - München, Garage Deluxe
10.04.2016 - D - Ludwigsburg, Rockfabrik
11.04.2016 - CZ - Prag, Nova Chmelnice
12.04.2016 - D - Nürnberg, Der Cult
14.04.2016 - D - Siegburg, Kubana Club
15.04.2016 - NL - Weert, De Bosuil
17.04.2016 - NL - Rotterdam, Baroeg
19.04.2016 - B - Verviers, Spirit Of 66
21.04.2016 - I - Trieste, Rock Out
22.04.2016 - I - Bresso, Blue Rose Saloon

www.sototheband.com
www.facebook.com/SOTOofficial 
www.twitter.com/SOTOtheBand
www.facebook.com/JeffScottSoto 
www.twitter.com/jeffscottsoto
www.ear-music.net
www.youtube.com/earMUSICofficial
www.facebook.com/earMUSICofficial