Die kanadischen Death Metal-Hyperblaster KATAKLYSM werden ab kommenden Donnerstag ihre Europa-Tour zum aktuellen Werk »Of Ghosts And Gods« (VÖ: 31. Juli 2015 via Nuclear Blast) vom Stapel lassen. Unterstützt werden sie dabei von der griechischen Symphonic Death Metal-Macht SEPTICFLESH und den belgischen Death Metallern ABORTED.
Mastermind Maurizio kommentiert:
"Es ist ein kleines Weilchen her, dass wir die Clubs und Theater Europas besucht haben. Die letzte Tour war unglaublich, wir haben gute Erinnerungen daran. Dieses Mal kommen wir stärker als jemals zuvor zurück, um das bombastische »Of Ghosts And Gods« mit noch nie dagewesenen 44 Shows quer über den Kontinent vorzustellen. Wir werden neue Städte und auch neue Länder, wie Norwegen, Finnland, Estland und Lettland, zum allerersten Mal besuchen... Begeisterung wäre Tiefstapelei! Wir werden eine vollständige KATAKLYSM-Show bieten, damit Ihr uns richtig erleben könnt und wir werden unsere Brüder mitbringen: die griechischen Titanenkönige von SEPTICFLESH und die belgischen Gore-Meister ABORTED, um für Gewalt und Blut zu sorgen. In echter KATAKLYSM-Tradition wird die Tour im Januar und Februar stattfinden, also kommt vorbei und startet das Jahr auf die richtige Art und Weise und erlebt diesen akustischen Angriff, wenn er bei Euch Halt macht, um Eure Stadt zu zerstören!"

Lasst Euch dieses brutale Tourpaket auf keinen Fall entgehen!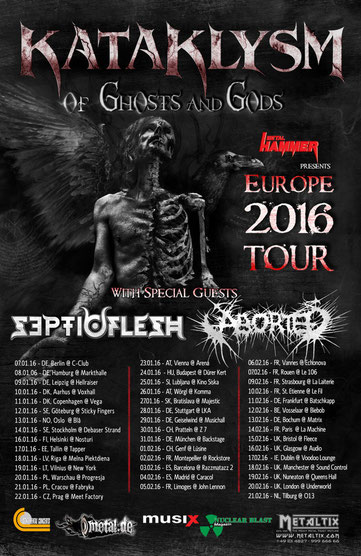 »Of Ghosts And Gods« - Europa-Tour 2016
KATAKLYSM
Support: SEPTICFLESH, ABORTED
07.01.2016 - D - Berlin, C-Club
08.01.2016 - D - Hamburg, Markthalle
09.01.2016 - D - Leipzig, Hellraiser
10.01.2016 - DK - Aarhus, Voxhall
11.01.2016 - DK - Copenhagen, Vega
12.01.2016 - S - Göteburg, Sticky Fingers
13.01.2016 - NO - Oslo, Blå
14.01.2016 - S - Stockholm, Debaser Strand
16.01.2016 - FI - Helsinki, Nosturi
17.01.2016 - EE - Tallin, Tapper
18.01.2016 - LV - Riga, Melna Piektdiena
19.01.2016 - LT - Vilnius, New York
20.01.2016 - PL - Warschau, Progresja
21.01.2016 - PL - Cracov, Fabryka
22.01.2016 - CZ - Prag, Meet Factory
23.01.2016 - A - Vienna, Arena
24.01.2016 - HU - Budapest, Dürer Kert
25.01.2016 - SI -  Lubljana, Kino Siska
26.01.2016 - A - Wörgl, Komma
27.01.2016 - SK - Bratislava, Majestic
28.01.2016 - D - Stuttgart, LKA
29.01.2016 - D - Geiselwind, Musichall
30.01.2016 - CH - Pratteln, Z 7
31.01.2016 - D - München, Backstage
01.02.2016 - CH - Genf, Lùsine
02.02.2016 - F - Montepellier, Rockstore
03.02.2016 - E - Barcelona, Razzmatazz 2
04.02.2016 - E - Madrid, Caracol
05.02.2016 - F - Limoges, CC John Lennon
06.02.2016 - F - Vannes, Echonova
07.02.2016 - F - Rouen, Le 106
09.02.2016 - F - Strasbourg, La Laiterie
10.02.2016 - F - St. Etienne, Le Fil
11.02.2016 - D - Frankfurt, Batschkapp
12.02.2016 - B - Vosselaar, Biebob
13.02.2016 - D - Bochum, Matrix
14.02.2016 - F - Paris, La Machine
15.02.2016 - UK - Bristol, Fleece
16.02.2016 - UK - Glasgow, Audio
17.02.2016 - IE - Dublin, Voodoo Lounge
18.02.2016 - UK - Manchester, Sound Control
19.02.2016 - UK - Nuneaton, Queens Hall
20.02.2016 - UK - London, Underworld
21.02.2016 - NL - Tilburg, O13

Festivals 2016
08.-10.07.2016 - D - Geiselwind, Out & Loud Festival

Sichert Euch Tickets für die Deutschland-Shows im Nuclear Blast Online Shop:

Holt Euch KATAKLYSMs »Of Ghosts And Gods« hier: http://nblast.de/KATAKLYSMGhosts

Mehr zu »Of Ghosts And Gods«:
https://www.youtube.com/watch?v=aO7wA88N8Qg&list=PLB4brr7vf-P7cxUOOK49epqvAz_EsRkdz

Weitere Infos:
www.kataklysm.ca
www.facebook.de/kataklysm
www.nuclearblast.de/kataklysm