Zehn Jahre Bandgeschichte können die schwedischen Power Metaller BLOODBOUND vorweisen. In dieser Zeit war die Truppe höchst produktiv und hat sechs Studioalben veröffentlicht - das aktuelle ("Stormborn") erschien im November 2014.
Am 12. Februar steht nun "One Night Of Blood" auf dem Plan, eine beim diesjährigen Masters Of Rock Festival in der tschechischen Republik mitgeschnittene Live DVD/CD.
Vertreten sind Songs aller Bloodbound Alben, mit Ausnahme von "Tabula Rasa".
Direkt am Tag der Veröffentlichung startet auch die große Sabaton/Alestorm/Bloodbound Europatour.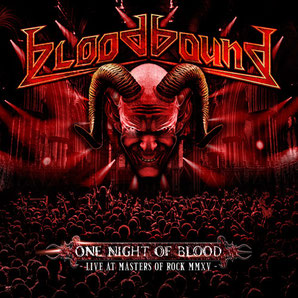 Tracklist "One Night Of Blood"
DVD+CD
01. Bloodtale
02. Iron Throne
03. When Demons Collide
04. In The Name Of Metal
05. When The Kingdom Will Fall
06. Moria
07. Nightmares From The Grave
08. Metalheads Unite
09. When All Lights Fail
10. Book Of The Dead
11. Metal Monster
12. Stormborn
13. Nosferatu
14. Nosferatu Symphony
DVD Bonus Content
15. Stormborn (Videoclip)
16. In The Name Of Metal (Videoclip)
17. In The Name Of Metal (Performance Version)
18. Moria (Live at Masters Of Rock 2012)
19. Stormborn (Live at Out & Loud Festival 2015)
20. In The Name Of Metal (Live in Oberhausen 2015)
21. The Bloody Documentary
Tourdates mit Sabaton & Alestorm:
12.02.2016 - A - Dornbirn, Conrad Sohm
13.02.2016 - A - Linz, Posthof
14.02.2016 - A - Graz, Orpheum
15.02.2016 - A - Innsbruck, Music Hall
17.02.2016 - CH - Solothurn, Kofmehl
18.02.2016 - CH - Lausanne, Metropole
19.02.2016 - CH - Zürich, Komplex 457
20.02.2016 - CH - Chur, Palazzo
22.02.2016 - F - Marseille, Espace Julien
23.02.2016 - F - Bordeaux, Rocher de Palmer
24.02.2016 - F - Nantes, Stereolux
26.02.2016 - UK - Norwich, UEA
27.02.2016 - UK - Manchester, Academy
28.02.2016 - UK - Birmingham, O2 Academy
29.02.2016 - UK - Southampton, O2 Guildhall
02.03.2016 - UK - Aberdeen, Music Hall
03.03.2016 - UK - Glasgow, Barrowlands
04.03.2016 - UK - Belfast, Limelight1
06.03.2016 - IRL - Dublin, Vicar Street
07.03.2016 - UK - Cardiff, Tramshed
08.03.2016 - UK - Bristol, Motion
10.03.2016 - UK - London, The Forum
11.03.2016 - NL - Tilburg, O13 Poppodium
12.03.2016 - NL - Esch-sur-Alzette, Rockhal