Pünktlich zum Album VÖ von "A Monster's Life" am 26. Februar starten THE NEW BLACK auch ihre "A Monster's Tour" - weitere Tourdaten sind gerade bestätigt worden: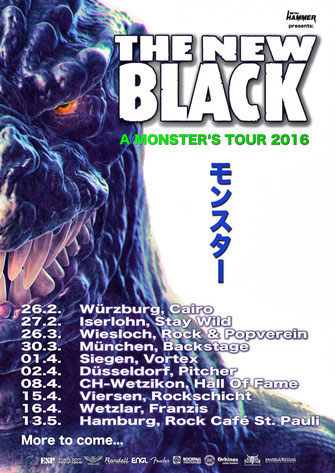 26.02.2016 - D - Würzburg, Cairo
27.02.2016 - D - Iserlohn, Stay Wild
26.03.2016 - D - Wiesloch, Rock & Popverein
30.03.2016 - D - München, Backstage
01.04.2016 - D - Siegen, Vortex
02.04.2016 - D - Düsseldorf, Pitcher
08.04.2016 - CH - Wetzikon, Hall Of Fame
15.04.2016 - D - Viersen, Rockschicht
16.04.2016 - D - Wetzlar, Franzis
13.05.2016 - D - Hamburg, Rockcafe
"Zehn Nummern, kein Bullshit, kein Ballast", fasst Sänger Fludid den Fokus der vierten Scheibe zusammen.
"A Monster's Life" klingt wie eine Platte klingen sollte, die mit einem Stück namens "Long Time Coming" beginnt: Als hätten die drei Jahre seit dem letzten Album auf diesen singulären Punkt hingesteuert.
THE NEW BLACK gingen für ihr viertes Album nicht zu irgendeinem Produzenten, sondern nahmen mit Jacob Hansen auf. Der Däne gilt als unangefochtener Meister des druckvollen Rock-Fachs, dem bereits Volbeat alle ihre Veröffentlichungen anvertraut haben.
---
THE NEW BLACK veröffentlichen Titel, Artwork & Tracklist von "A Monster's Life"
Das vierte Album der Würzburger Heavy-Rocker THE NEW BLACK BLACK wird den Titel "A Monster's Life" tragen und am 26. Februar über AFM Records das Licht der Welt erblicken.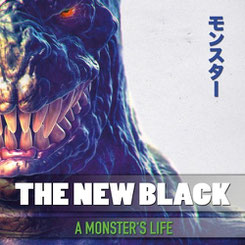 Tracklist:
THE NEW BLACK "A MONSTER'S LIFE"
01. Long Time Coming
02. Blockbuster Life
03. With A Grin
04. Send In The Clowns
05. Dead In The Water
06. Buddha Belly
07. The Beer Of No Return
08. A Pill Named Ting
09. Better
10. That's Your Poison, Not Mine
Produziert von Jacob Hansen.
Den geneigten Hörer erwartet ein kraftvolles Paket, zehn Songs, kein Bullshit, explosiv und gnadenlos auf den Punkt gezüchtet. Die Dreifaltigkeit aus Härte, Melodie und Groove hat neue Könige, der Sound ist druckvoll und international. Der Fakt, dass niemand Geringeres als Jacob Hansen (Produzent von Volbeat) der Scheibe ihren finalen Schliff verpasst hat, dürfte keine Fragen mehr offen lassen.
Im Frühjahr werden THE NEW BLACK sich auf die "A Monster's Tour" zum Album begeben. Zwei Termine sind bereits bestätigt:
26.02.2016 - D - Würzburg, Cairo (Release Show)
27.02.2016 - D - Iserlohn, Stay Wild