Mit "Too Late" haben Striker eine Metal-Hymne geschaffen, die zum stilechten Headbangen und Posen geradezu verführt, wie die Kanadier im aktuellen Video (siehe unten) beweisen. Wem die Luftgitarre dabei nicht ausreicht, dem wird jetzt geholfen:
Zur Single aus dem am 05.02.16 erscheinenden Album "Stand In The Fire" hat Striker-Gitarrist Tim Brown nun nämlich eine ausführliche Guitar Lesson veröffentlicht, in dem er alle Riffs, Licks und Soli des Songs vorstellt: "This song is full of classic 80's metal tricks, like using the push (or syncopation) in your rhythm playing, using broken chords over a changing background riff, and last but not least, all of the epic shred and tapping to melt your fingers on. Though simple on first listen, there are lots of complex parts that can increase the difficulty and challenge that will make this song fun for all levels of guitarist to play."
Das Video dazu findet ihr hier:
Damit auch ja keine Note verloren geht, gibt es die Tabs von "Too Late" zusätzlich noch auf ultimate-guitar.com zum Download.

Und jetzt kommt der absolute HAMMER:
Für alle angehenden Guitar Heroes besteht die Möglichkeit, das neue Album "Stand In The Fire" zu gewinnen. Alles was ihr dafür tun müsst, ist euer Guitar-Cover von "Too Late" auf Facebook oder Youtube hochzuladen und es an Strikers Pinnwand zu posten.
Also ran an die Klampfen!
"Too Late" Official Video: https://www.youtube.com/watch?v=el1yIAX5TX4&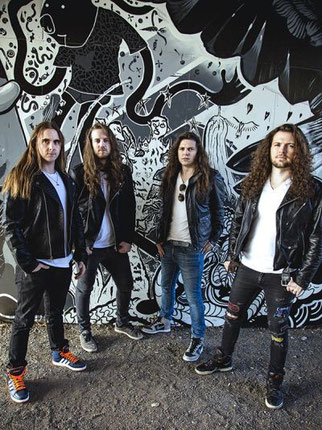 STRIKER - Tour Dates:
05.02.2016 - E – Barcelona, Razz 2
06.02.2016 - E – Madrid, Arena
07.02.2016 - E – Murcia, Garaje
10.02.2016 - F – Paris, Divan Di Monde
11.02.2016 - D – Siegburg, Kubana
12.02.2016 - CZ – Prague, Nove Chelmice
13.02.2016 - D – Cham, LA Cafe
14.02.2016 - D – Hamburg, Logo
16.02.2016 - D – Hannover, MusikZentrum
17.02.2016 - D – Saarbrücken, Garage
18.02.2016 - D – Stuttgart, LKA
19.02.2016 - CH – Pratteln, Z7
20.02.2016 - D – München, HM's Calling
21.02.2016 - HU – Budapest, Barba Negra
23.02.2016 - A – Wien, Szene
24.02.2016 - PL – Cracov, TBA
25.02.2016 - D – Berlin, K17
26.02.2016 - D – Würzburg, Posthalle
27.02.2016 - D – Essen, Turock
28.02.2016 - B – Vosselaar, Biebob
---
STRIKER - "Stand In The Fire" Album-Details
Die kanadischen Heavy Metal Tiere STRIKER bereit, mit ihrem vierten Album "Stand In The Fire", welches am 5. Februar 2016 über ihr eigenes Label Record Breaking Records veröffentlicht wird, in ein neues Abenteuer aufzubrechen.

Der Europa-Vertrieb und die Promotion werden vom Künstler-Service SAOL der cmm GmbH in die Hand genommen.Die Band hat ihr Album mit Hilfe von Randy Black und dem Sound-Genie Frederik Nordstrom (Bring Me The Horizon, In Flames, Opeth) in Eigeninitiative zu Hause (!) aufgenommen –
Das hat den Jungs nicht nur die Zeit und den Freiraum gegeben, der für das Album notwendig war, darüber hinaus haben sie in der gleichen Zeit auch die Vorbestellung für alle Fans weltweit vorbereitet. Ambitionierte ARBEITSTIERE sind das!

Vorbestell-/Crowdfunding Kampagne
Um dieses DIY-Konzept umzusetzen, bauen STRIKER auf die Unterstützung ihrer Fans und haben heute eine schicke Crowdfunding-Kampagne gestartet.
Bis zum 10. Dezember können Fans dort tolles Zeug ergattern, z.B. die Chance, einen Song zu bestimmen, den die Band noch als Bonustrack covern muss. Oder Privatkonzerte zuhaus (mitsamt Bier von der Band).
Sehr geil für die Fans: die CDs und LPs der Kampagne werden allesamt als exklusive Special Editions verschickt! Sehet das Paradies auf striker-metal.com
Hier gibt's noch ein Video zu Crowdfunding-Kampagne.
Erste Songpremiere
Mit "Stand In The Fire" haben STRIKER heute ein Höchstmaß an Kompromisslosigkeit erreicht. Ein Album voller Wahnsinnsriffs schön verpackt in epische Harmonien. Dieses Biest ist wie die ultimative Zeitmaschine auf dem Weg in die Achziger - nur mit noch geilerem Sound!
Um einen Vorgeschmack auf STRIKERs neues Meisterwerk zu erhaschen, hört doch hier mal in den neuen Track "Too late" rein.

Europa-Tour 2016
Pünktlich zum Albumrelease, werden STRIKER mit PRIMAL FEAR und BRAINSTORM losziehen, um im Februar 2016 Europa zu beschallen.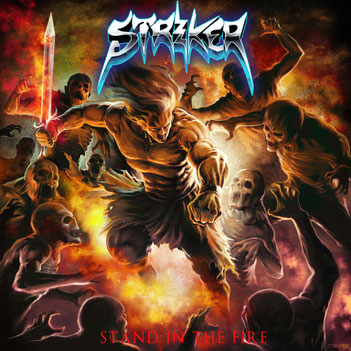 05.02.2016 - E - Barcelona, Razz 2
06.02.2016 - E - Madrid, Arena
07.02.2016 - E - Murcia, Garaje
10.02.2016 - F - Paris, Divan Di Monde
11.02.2016 - D - Siegburg, Kubana
12.02.2016 - CZ - Prag, Nove Chelmice
13.02.2016 - D - Cham, L.A. Cafe
14.02.2016 - D - Hamburg, Logo
16.02.2016 - D - Hannover, MusikZentrum
17.02.2016 - D - Saarbrücken, Garage
18.02.2016 - D - Stuttgart, LKA
19.02.2016 - CH - Prattlen, Z7
20.02.2016 - D - München, HM's Calling
21.02.2016 - HU - Budapest, Barba Negra
23.02.2016 - A - Wien, Szene
24.02.2016 - PL - Cracov, TBA
25.02.2016 - D - Berlin, K17
26.02.2016 - D - Würzburg, Posthalle
27.02.2016 - D - Essen, Turock
28.02.2016 - B - Vosselaar, Biebob