Die grösste Rockband der Welt kommt zurück nach Deutschland
Arena-Shows im Mai 2016 in Stuttgart, Frankfurt und Dortmund
Erste Konzerte in Frankfurt und Dortmund nach 17 Jahren
Tickets ab Donnerstag, 12. November 2015 im Presale erhältlich
YOU WANTED THE BEST, YOU GOT THE BEST! Ein seit vier Jahrzenten ausgesprochenes Versprechen der legendären Rock `n` Roll Giganten KISS! Geliebt für ihre aufwendigen und spektakulären Bühnenshows geben KISS den Fans nicht weniger als das ultimative Konzerterlebnis. Die gewaltige Lightshow und unverkennbaren Pyrotechnik-Effekte auf dem "Over The Top-Level" haben KISS-Konzerte zur "Größten Rockshow der Welt" gemacht. Mega-Hits wie "Rock And Roll All Night", "Detroit Rock City" und "I Was Made For Loving You" sind absolute Klassiker der Rockgeschichte.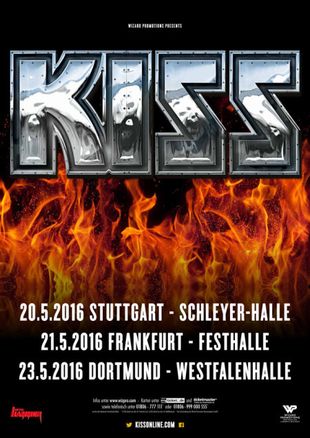 Nach Festivalauftritten und Arena-Shows in diesem Jahr knüpfen KISS an den Tourzyklus der "40th Anniversary World Tour " an und bringen ihre explosive Live-Show im Mai 2016 zurück in die Arenen Deutschlands. KISS spielen am 20. Mai 2016 in Stuttgart in der Schleyer-Halle, am 21. Mai 2016 in Frankfurt in der Festhalle und am 23. Mai 2016 in Dortmund in der Westfalenhalle. Der letzte Auftritt der Band in Stuttgart datiert auf das Jahr 2008, die letzten Shows in Frankfurt und Dortmund liegen bereits 17 Jahre zurück.
Das Imperium KISS steht über Allem. Durch ihre Bühnenoutfits, mit denen sich die vier Musiker unsterblich gemacht haben und die nach wie vor die Fans generationsübergreifend faszinieren, wurden KISS zu Ikonen des Rock. Mehr als 100 Millionen verkaufte Tonträger weltweit, davon allein 40 Millionen und 28 Goldalben in den USA, 3.000 lizensierte Merchandise-Produkte einschließlich einer KISS-Minigolfanlage in Las Vegas sowie einem aktuellen Album. KISS haben alle Kassenrekorde, die Elvis oder die Beatles je aufgestellt haben, eingestellt und wurden 2014 in die "Rock And Roll Hall Of Fame" aufgenommen. Anfang November rockten sie wieder auf ihrer eigenen Kreuzfahrt, der Kiss Kruise, Miami und die Bahamas. Parallel zur massiven Welttournee anlässlich des Erscheinens ihres Debütalbums vor 40 Jahren veröffentlichte die Band die Compilation "Kiss 40". Gene Simmons, Paul Stanley sowie die Langzeit-Mitglieder Tommy Thayer und Eric Singer präsentieren sich aktuell auf dem Höhepunkt ihrer Karriere in absoluter Bestform und werden den deutschen Fans im Mai 2016 schlicht und ergreifend die Show des Jahres bieten. YOU WANTED THE BEST, YOU GOT THE BEST!
Der allgemeine Vorverkauf für die drei Arena-Konzerte von KISS beginnt am Samstag, dem 14. November 2015 – 10.00 Uhr. Tickets gibt es an den bekannten Vorverkaufsstellen, unter der bundesweiten Tickethotline 01806/999 000 555 (0,20 EUR/Verbindung aus dem dt. Festnetz/max. 0,60 EUR/Verbindung aus dem dt. Mobilfunknetz) oder im Internet unter www.myticket.de, www.eventim.de und www.ticketmaster.de. Bereits ab Donnerstag, dem 12. November 2015 bieten die Ticketanbieter Myticket, Eventim und Ticketmaster Presales an.
Termine:

20.05.2016 - D - Stuttgart, Schleyer-Halle
21.05.2016 - D - Frankfurt, Festhalle
23.05.2016 - D - Dortmund, Westfalenhalle