Ihrem erfolgreichen 2014er Album "Firesoul" lassen die schwäbischen Power Metaller BRAINSTORM schon in Kürze "Scary Creatures" folgen, das am 15. Januar 2016 erscheinen wird. Die Band macht einfach da weiter, wo sie für "Firesoul" bei Journalisten und Fans gleichermaßen Begeisterung entfachen konnte, diesmal jedoch noch konsequenter, hymnenhafter und härter. Mix und Mastering übernahm erneut Achim Koehler - eine Verbindung, die seit jeher stets Großes hervorbrachte. Schon der Beginn von "Scary Creatures" in Form der ersten Single (und Video) "The World We See" ist ein Ohrwurm erster Güte und qualifiziert sich vom Fleck weg als Band-Klassiker. BRAINSTORM stellen erneut unter Beweis, warum sie seit vielen Jahren so großen Respekt in der Metalszene genießen. Im Februar werden die Schwaben mit Primal Fear und Striker auf Europatour gehen, gefolgt von zahlreichen Festivals im Sommer.
Andy B. Franck: "Scary Creatures" ist ein sehr emotionales, ja schon fast persönliches Album geworden. In all unseren Songs und den Texten spiegeln sich Erkenntnisse und Empfindungen der letzten Monate wider, die die Musik unheimlich intensiv haben werden lassen. Für mich ist "Scary Creatures" die logische Entwicklung nach "Firesoul" (2014) zu BRAINSTORM 2016. Es ist mir auch gelungen, erstmal meine eigenen, als auch Kinder verschiedener Bandmitglieder zu integrieren. Das macht dieses Album äußerst wertvoll und einzigartig. Die musikalische Power verbunden mit der textlichen Rahmenhandlung über die Gräueltaten der letzten Jahrhunderte überall auf der Welt ist ein für uns unheimlich eindrucksvolles Album entsanden, auf das wir stolz sind!"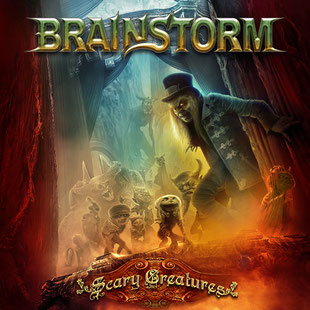 Tracklist:
01. The World To See
02. How Much Can You Take
03. We Are
04. Where Angels Dream
05. Scary Creatures
06. Twisted Ways
07. Caressed By The Blackness
08. Scars In Your Eyes
09. Take Me To The Never
10. Sky Among The Clouds
Bonustrack auf ltd. Digipak:
- Lift Your Eyes To See
+ Bonus Live DVD
(inkl. "The World To See" video clip & Live in Essen 2014 (Aufführung des kompletten 'Firesoul' Albums + zahlreiche Klassiker)
'Scary Creatures' wird als CD, CD+DVD Digipak, ltd. Boxset (Statue und Digipak) & ltd. goldenes Vinyl erhältlich sein.