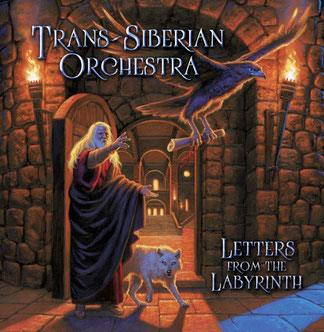 VÖ: 13.11.2015
Label: Universal

Format: CD
Tracklist:
01. Time And Distance
The Dash (Short Story)
02. Madness Of Men
03. Prometheus
04. Mountain Labyrinth
05. King Rurik
06. Prince Igor
07. The Night Conceives
08. Forget About The Blame
09. Not Dead Yet
10. Past Tomorrow
11. Stay
12. Not The Same
13. Who I Am
Running In The Passion Of The Fairy Tale Moon (Short Story)
14. Lullaby Night
Bonus Track:
15. Forget About The Blame (feat. Lzzy Hale)
Nach 6 Jahren Wartezeit erscheint im November endlich ein neues Album von TSO! Hier setzt man auch wieder überwiegend auf die klassischen / instrumentalen Stücke, die mal mehr, mal weniger Pepp haben. Darüber hinaus wird aber auch wieder Wert auf erstklassige Leadsänger gesetzt. Und in Folge dessen konnte man für "Letters From The Labyrinth" abermals Kayla Reeves ("The Night Conceives, Not The Same") verpflichten. Auch wieder mit an Board ist Jeff Scott Soto ("Prometheus"). Ebenfalls am Mikrofon sind Robin Borneman und Lzzy Hale ("Forget About The Blame"), Russel Allen ("Not Dead Yet"), Adrienne Warren ("Stay") und Jennifer Cella ("Past Tomorrow").
Sehr erfreulich - wie ich finde - ist auch wieder die Arbeit von Asha Melvana an der Violine, die bereits früher großartige Aufnahmen hingelegt hat und auch live sehr viel Power und Präsenz auf die Bühne bringt. All die anderen Musiker sollen natürlich nicht unbedacht bleiben, aber jeden einzeln aufzuzählen ist bei dieser langen Liste doch zu umfangreich.

Aber zurück zum neuen Album "Letters From The Labyrinth"! Mit "Time And Distance" steigt man direkt wieder mit einem Epos in den Langspieler ein. Kraftvolle Chöre, kombiniert mit "Pauken und Trompeten". "Madness Of Men" setzt dagegen auf das Können der Musiker und beleibt im Instrumentalen Bereich. Und so abwechslungsreich zieht es sich durch das komplette Album.

Mit "The Dash" und "Running In The Passion Of A Fairy Tale Moon" können wir uns auch an zwei Kurzgeschichten erfreuen. In "The Dash" geht es um den Sinn des Lebens und diesen zu finden und bei "Running In The Passion [...]" um das Zwischenmenschliche Verhalten, sowie dem Umgang mit der Umwelt - im weiteren Sinne.

Hier bekommt man mal wieder ein hervorragendes Meisterwerk aus dem Hause Paul O'Neill in Zusammenarbeit mit Jon Oliva, Robert Kinkel und Al Pritrelli. Eine absolute Kaufempfehlung für alle Fans von Classic-Symphonic-Power-Orchestral-Metal - um es mal einfach zu umschreiben.
Aufgenommen und gemischt wurde "Letters From The Labyrinth" in den Night Caste Studios in Tempa, Florida. Das Mastering fand bei Sterling Sound von Ted Jensen in New York City statt. Für das Cover/Artwork ist Greg Hildebrandt verantwortlich.
(Sarah Jacob)