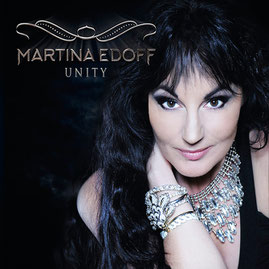 VÖ: 23.10.2015
Label: Into Records
Format: CD
Tracklist:
01. Unity 02. Never Let You Down
03. World Has Gone Mad
04. Spirit Of Light
05. Come Alive
06. I Am Mining
07. Love Keeps Turning Away
08. Moment Of Truth
09. Sound Of Thunder
10. This Love Is Crazy
11. Caught In The Middle
Martina Edoff ist Sängerin, hat aber auch schon Aufnahmen für Dr. Alban (Hip Hop) gemacht und tourte mit selbigem, sowie auch mit Ace Of Base, durch die Lande. Nebenher ist sie ebenfalls Gründungsmitglied der Glam Rocker The Poodles, die aktuell durch Europa touren. Nach ein paar Jahren Pause, kehrt die Schwedin mit ihrem Solodebüt zurück in die Musiklandschaft und setzt mit "Unity" ein Zeichen.
"Now it's all about the kind of music I really love the most myself." bestätigt Martina Edoff. "I want my music to be both powerful and melodic, so right now I'm having the time of my life!"

Und meiner Meinung nach, hört man ihre eigene Begeisterung auch aus den Songs raus. Klassischer Rock, der sich auf "Unity" in einigen Uptempo Nummern erstreckt, die tatsächlich auch mal ordentlich durch die Boxen fetzen können, aber auch eingängige Balladen, die Martinas Stimme damit auch nochmal eine ganze andere Seite zeigen lassen. In sich ist das Album stimmig und auch gut produziert. Die Lyrics sind zum teil recht massentauglich und auch etwas pop-lastig geschrieben, passen allerdings trotzdem gut, zu den dazu komponierten Melodien der einzelnen Songs.
Die erste Singleauskopplung "World Has Gone Mad" ist schon ein echt guter Vorgeschmack auf das, was man hier sonst noch auf dem Langspieler zu hören bekommt.

Das Album wurde in den legendären Bohus Sound Studios aufgenommen, in denen schon ABBA und Status Quo arbeiteten. Der Produzent von "Unity" ist Tobias Lindell, der bereits Europe, Mustasch und die Hardcore Superstars in diesen Studios produzierte.
Martina Edoff wird bereits als "New Queen of Nordic Rock" gehandelt und damit gehe ich davon aus, dass man auch noch einiges von ihre zu hören bekommt. Ich freue mich schon darauf, die Songs live on stage erleben zu dürfen und hoffe somit auf eine baldige Europa-Tour um die Scheibe zu promoten.
(Sarah Jacob)